Guide To Buying the Perfect Custom Engagement Ring
You've found the one. The one who makes you smile and laugh. The one who you cry to and lean on for strength. The one you search for in a crowd. The one with whom you want to share life's biggest adventures - and it's smallest moments.
Whether your journey together involves marriage, enduring love, or a strong partnership that withstands all of life's slings and arrows, your relationship is unique. Custom engagement ring designs empower you to capture the essence of your love - a wearable reminder of what you mean to each other.

Creating the One
Now, it's time to find - or create - an engagement ring that is as special as your partner. But wait. Custom. Doesn't that mean… pricey? Sure; Hollywood A-listers love their blingy custom engagement rings. Just take a look at Beyonce's 20 carat emerald cut and pavé masterpiece, valued at over $5 million. Or Carrie Underwood's lovely 5 carat yellow round brilliant in a halo of white melee diamonds, at a relatively modest $150,000.
If those price points are a bit above what you aim to spend, does this mean that a custom engagement ring is out of the question? No. Of course, the sky's the limit in terms of design and cost, but you can also specify a gorgeous ring that meets your taste and your financial parameters. A custom engagement ring is within reach - even if you've never won an Emmy, Grammy, or Oscar.
Benefits of Custom Engagement Rings
Besides the undeniable "wow" factor, custom engagement rings deliver a number of benefits, including:
Control
Rather than being restricted to existing inventory, you have the freedom and flexibility to bring your vision of the perfect ring to life. You don't have to compromise on any aspect, from the shape of the diamond to the setting that emphasizes its beauty. No more settling for "good enough."
Cost Control
Generally, a custom engagement ring can cost more. However, you can control costs by strategically choosing your stone and settings. A reputable jeweler will help you maximize your budget.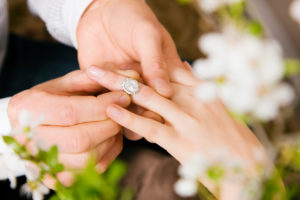 Unique Appeal
Your custom engagement ring will be one of a kind; it is completely tailored to the tastes and styles of it's wearer. And the symbolism cannot be missed: a unique ring for a unique love.
Outstanding Craftsmanship
Don't get us wrong; there are wonderful pieces that you can purchase from stores. But when you commission a piece from a master jeweler, the workmanship is unparalleled. The best jewelers are renowned for their exacting, meticulous care. This is what you deserve - and certainly what your significant other deserves.
Are there drawbacks to choosing a custom engagement ring? If you choose to see it that way, sure! The process does take longer; you're not going into a store, picking out something you like, and going on your way to the big proposal. It can take six to eight weeks (or longer, depending on various factors) from start to finish to commission a bespoke ring.
Purchasing an engagement ring is one of the most meaningful purchases you will ever make; taking the time to ensure you create the perfect piece will help you get the best return.
Overview of Custom Engagement Ring Process
What can you expect from the custom engagement ring process? What steps are involved? Let's take a look.
1. Start with an idea: You can sketch out your vision, or, if you're artistically-challenged, you can browse catalogues, magazines, and internet sites like Pinterest for ideas. Select elements that you love in different rings (more on this later on).
You can bring these to the jeweler for expert insight. Take the time to think deeply about what you want - and more importantly, what your significant other will want.
2. Find a reputable, trustworthy jeweler: This should be a top priority; look at reviews, ask for recommendations, visit jewelers and ask to see previous work, inquire about credentials and diamond certification processes and check on guarantees and warranties. Above all, choose a jeweler who listens to you and in who you can trust.
3. Collaborate: Commissioning a custom engagement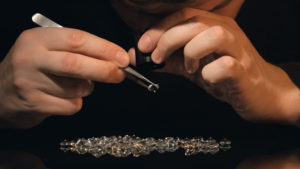 ring can seem overwhelming at first! Rather than being intimidated by the jeweler's expertise, use it to your best advantage. Ask questions, invite input, and make sure your jeweler listens to your ideas and concerns - and incorporates them into your ring design and creation.
4. See it come to life: Your custom jeweler will capture your ideas in a rendering, whether a CAD (computer aided design) drawing, full color illustration, or a wax mock-up. This is your chance to make course corrections, if you want. Does it look like you envisioned? If not, go back to the drawing board and incorporate the elements you want. (And see another rendering before proceeding full speed ahead.)
5. Protect your investment: When creating a custom ring, make sure you have a written agreement with the jeweler. This should include the elements you want in the ring, pricing, payment schedule, and a final appraisal.
It's also a good idea to opt for a warranty (which may or may not be included in the price of the ring); this will give you the peace of mind you need and reassure your significant other that the ring will look gorgeous for decades to come.
The design then goes into production; in a few weeks, you'll see it fully realized. Waiting's the hardest part!
Advice for a Spectacular Custom Engagement Ring
Now that we've reviewed what the custom engagement ring process will look like, let's move on to the exciting part; what will the custom engagement ring look like? Here is some guidance to help make this process a little easier to digest.
Establish a Budget
Although this is not the most exciting part - it is one of the most important. There are conventional "rules" in terms of what you should spend. Some recommend the equivalent of two month's salary; others say three months' is more appropriate. Our advice? Forget this advice.
Spend what you can comfortably afford. The dynamics between couples has evolved: they may be saving for a house or for travel. They may be raising children or furthering their own education. A ring may or may not be the top financial priority. That's fine! Set a reasonable budget, and work with your jeweler to create a ring that meets it - and surpasses expectations. It can be done!
To Surprise or Not to Surprise
Are you dreaming of a big proposal that will sweep your beloved off their feet? The element of surprise may be part of your plan. In this case, you're going to have to conduct some covert reconnaissance. Is your significant other dropping any hints? Do they remark on how beautiful their friend's solitaire is or how much they love their sister's halo engagement ring?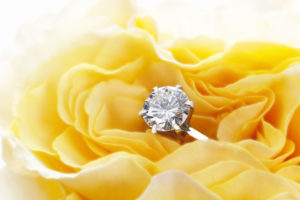 You can also take a look at their style: do they tend to wear classic pieces? Simple? Elaborate? Gold? Silver? Platinum? Are they flashy? Bold? Elegant? Understated? Do they work with their hands? Would an engagement ring be an everyday accessory or a special occasion head-turner?
If they have any friends/family members who can keep a secret, you may want to enlist their help as well.
You may prefer to propose - and then go on the custom engagement ring journey together. This can be equally romantic, and you can be sure they'll get the ring of their dreams.
Decide on Ring Elements
Start with shape
What shape do you/your significant other like? Rounds are universally popular and ideal for any number of designs. Other great choices include princess, emerald, asscher, cushion, oval, marquise, pear, heart and radiant.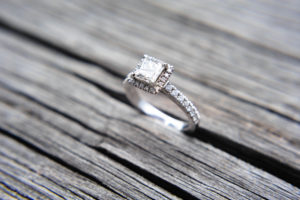 Select a setting
Some popular custom engagement ring options include:
Solitaire: Simple, classic, ageless. Four or six prongs hold a diamond securely, allowing it to steal the show.
Pavé: Meaning "paved" with diamonds, this style can enhance the beauty of a center stone and add continuous sparkle.
Halo: Another showstopper, halo settings feature a center stone surrounded by one, two, or more concentric circles of smaller or melee diamonds.
Bezel: Here, a thin band of metal holds the stone. It's secure, and it can help you disguise inclusions and blemishes (see below for "Clarity")
Cathedral: If you want to go big, go cathedral. It is a dramatic take on the solitaire which adds height to the ring.
Your choice of shape will help guide your options in terms of custom engagement ring settings. For example, if you want a marquise diamond, a six-prong setting (one at each end and two on each side) maximizes its shine while keeping it protected.
If you like the round or princess shape, the options are virtually endless. You can then decide if you want additional stones, as in a halo or pavé setting, or if you'd like the diamond to stand alone in a solitaire.
Do not be afraid to discuss this with your jeweler; they can advise on the best engagement engagement ring setting and shape combinations.
Mind your metal
Does your significant other prefer cooler or warmer tones in jewelry? Are they allergic to any type of metals? Would they love mixing metals?
Whether they like cool metals or have issues with allergies or skin sensitivity, platinum is a great choice. It is tremendously durable and strong, making it ideal for those who live active lifestyles and/ or work with their hands. It will also secure the stones in place, delivering extra peace of mind. It costs a bit more than white gold (it's more rare), but it's a good investment as you won't need to replate the ring or worry about tarnishing.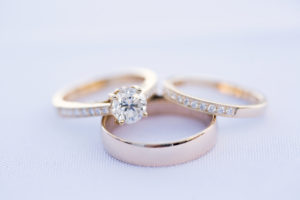 White gold is another option for people who like a cool, contemporary look. It is made by combining yellow gold with nickel, zinc, and copper. To give it extra strength, it is plated with rhodium. This will help it resist tarnishing but you'll need to replate now and again.
For those who love a warmer aesthetic, yellow gold makes sense. Since gold is too malleable for jewelry on this own, it is mixed with other metals like zinc, copper, nickel, or silver. Typically available in 18K (75% gold), 14K (58% gold), and 10K (42% gold), gold imparts a soft glow. Higher karats have a more saturated, yellow color, while lower karats tend to be stronger.
You can also opt for rose gold (gold with copper alloys) or green gold (gold with silver, zinc, and copper alloys), if your love likes a less traditional look. You can even mix two or three different engagement ring metals together for a unique appeal.
Source the stone
Finding the right stone(s) will not only amplify the beauty of your engagement ring, it can help you control costs and achieve maximum impact within your budget. There are various ways you can do this: for example, if size matters, you can opt for a diamond with a bigger table (such as an emerald). You'll sacrifice a bit of sparkle, but because the diamond is not as deep, it will appear larger.
Another way to optimize your dollar is to buy a slightly smaller carat size. Most people cannot distinguish between 1.8 carats and 2, for example. You won't see a difference - until you look at the price! That 0.2 carat will save you about 20 percent.
The key to maximizing your stone's beauty while keeping costs in line is to know your 4Cs - diamond cut, clarity, color, and carat.
Cut: Considered by many to be the most important C of diamond quality, cut refers to how a diamond interacts with light. The Gemological Institute of America (GIA), the world renowned independent diamond authority, assigns the following cut grades: Excellent, Very Good, Good, and Fair. Get the best cut you can afford; it's often worth sacrificing a bit of carat weight and even clarity and color.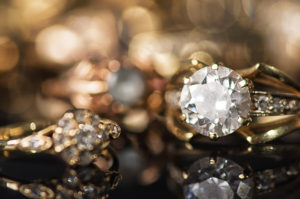 Clarity: This refers to the presence of inclusions and blemishes in the diamonds. Flawless means that a skilled grader using 10x magnification cannot spot these flaws. GIA uses the following diamond grades in addition:
• Internally Flawless (IF): a skilled grader cannot spot inclusions under 10x magnification.
• Very, Very Slightly Included (VVS1 and VVS2): A skilled grader can observe inclusions with difficulty.
• Very Slightly Included (VS1 and VSC2): Minor inclusions are visible with 10x magnification.
• Slightly Included (SI2 and SL2): Inclusions are visible under 10x magnification.
• Included (I1, I2, and I3): Inclusions are obvious under 10x magnification. They may impact transparency and brilliance.
We recommend aiming for as much clarity as possible: however, you will not notice a difference between VVS1 and VVS2, for instance, or even VS1 and VS2. This is a way to get more diamond for your money.
Color: When jewelers talk about diamond color, they mean lack of color. A perfect diamond - rare - has no hue at all. GIA uses a D-Z rating range, D being the most clear. As you'd expect, Colorless (DEF) stones cost more. But remember, differences are not discernible to the naked eye until you get to about K. A Near Colorless (G-J) diamond costs less while still appearing dazzling.
Carat: Carat is a measurement not of size but of weight. People tend to focus on the carats above all, but that does not mean it is the most important C. Opting for a smaller carat with excellent cut can help make a diamond appear larger, as can choosing a ring setting like halo or pavé.
Concentrate on the Fifth C: Certification! When you purchase a diamond, make sure that it comes with a GIA grading report. This shows you that you are, in fact, getting what you pay for in terms of diamond quality.
Another certification to consider: Kimberley Process documentation. This process is designed to eliminate the sale of "blood" or "conflict" diamonds. A diamond supplier who adheres to the Kimberley Process principles is careful to source their stones ethically.
Custom engagement rings need not be a source of mystery or intimidation. Armed with the right information, you can proceed with confidence.
You've found the one. Now find the engagement ring that will enable you to express your undying love for them.