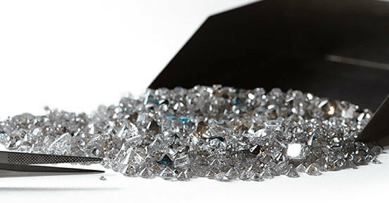 Like a restaurateur or chef, jewelry stores, managers, and designers need access to the best "ingredients." When your customers demand the finest quality and most stunning results, you must have the raw inventory necessary to satisfy their appetite. Purchasing diamonds can be intimidating at first, but when you find the right supplier and streamline your process, it is just one simple step towards happy customers and greater profitability.
Three tips to help make your diamond buying experience quick -- while ensuring you get the stones you need.
Check Credentials - They Matter! Not all diamonds are created -- or cut -- equal. It is essential that you know exactly what you're getting and that all orders match your specifications to the last detail. GIA certification and affiliation are excellent ways to ensure that your source is well-regarded in the industry. For example, opting for a GIA diamond supplier ensures that these professionals adhere to rigorous quality standards and a code of ethics when it comes to selling loose diamonds.
This is one layer of protection between your business and poor quality stones. Consider that many loose and melee orders contain simulated or lab-grown diamonds. These are difficult to distinguish from authentic stones with the naked eye, but they will impact the value of your end product. A GIA supplier conducts meticulous sorting processes to ensure you receive the quality you expect -- and that your customers want.
Select Suppliers with In-House Experts. This speaks to the level of quality you need. When you buy melee diamonds direct, as well as loose stones, you need to be assured of their authenticity and value. Having on-site cutters and sorters enables suppliers to maintain strict quality control while overseeing each and every step of the process.
Again, this helps address the ever-present concern of having lesser-quality stones or simulants mixed in with your order. There is nothing inherently "wrong" with lab-grown or look-alike stones -- they are used in many types of jewelry. But if you're paying for diamonds, you want to be sure you are getting diamonds. And, if you are then offering diamonds to your customers, you need to be 100% certain that they are, in fact, the real deal.
In-house experts build this level of assurance into each of your purchases. When you find a supplier who provides this standard of service, you can significantly reduce rejections and streamline your ordering process, confident you are receiving the stones you need to complete designs.
Provide CAD Drawings. When you take the time to design intricate pieces or take orders from customers who have a specific vision in mind, you need to know that your diamonds will meet your needs perfectly. One way to do this is to choose a reputable supplier. Another is to provide said supplier with CAD drawings. Doing so allows for accurate specifications, quick pricing, and the most convenient ordering from your GIA melee diamond supplier. Precise fulfillment means that you do not waste resources or time on subpar stones or rejections.

Stellar results start at the very beginning of the process -- with your diamond buying process. With these tips, you're three steps closer to fulfilling your customers' dreams of the perfect piece.