The diamond on your ring is the show's star, but a unique engagement ring setting offers a great supporting cast. Knowing the ins and outs of ring settings will ensure you get the look that matches your taste. So, what are the best engagement ring settings? Let's look at some.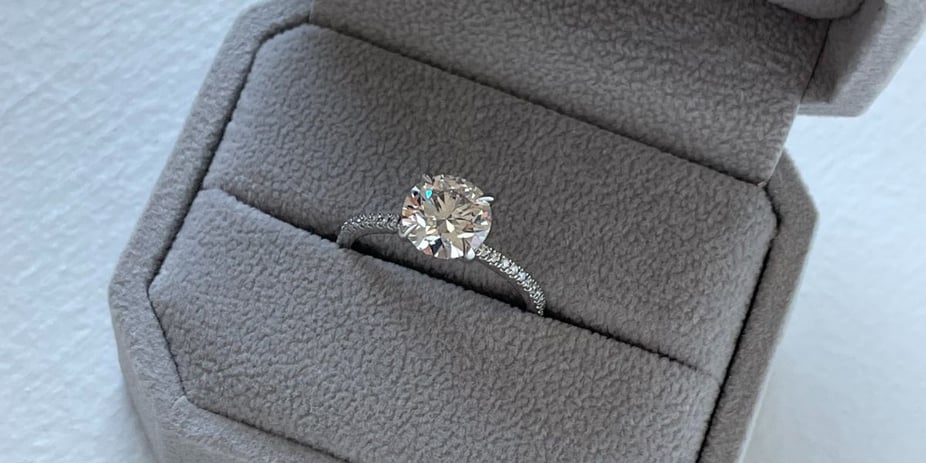 But First, What is a Ring Setting?
An engagement ring setting refers to how gemstones are set or mounted into a metal band. A ring's setting impacts its appearance and can be customized to reflect your own personal aesthetic. Choosing the appropriate ring setting will help secure the gemstone and highlight its true beauty.
The Best Engagement Ring Settings
For your customers, settling on an engagement ring setting when faced with so many styles can be daunting. Enlisting a diamond specialist's help will ensure you get the best diamonds for the best engagement ring settings for your clients. The most common types of ring settings include:
Prongs Setting
The prong setting is well-suited for single-stone rings and features four to six metal claws that firmly hold the diamond in place. This style elevates the diamond above the band, exposing it to more light and enhancing its sparkle.
Bezel Setting
The bezel uses a metal rim that surrounds the stone for a low-profile and modern finish. This style offers the best center diamond protection and is ideal for active wearers.
Cathedral Setting
This stylish and classic engagement ring setting utilizes metal arcs resembling a cathedral to hold the diamond in place. The elevated design highlights the center diamond, giving it a unique and striking finish.
Halo Setting
This ring setting style features a large center stone surrounded by a ring of smaller diamonds. The circle of diamonds accentuates the center stone, giving it a larger appearance. Some modern designs have a halo beneath the ring instead of around it, giving it a subtle finish.
Channel Setting
The channel setting secures a row of smaller diamonds on the ring's band and is often used on rings with no center stone. The diamonds lie flush with the band, reducing the chances of snagging on clothing.
The Diamond Setting and Polishing Experts
K. Rosengart offers expert diamond supply services that make sure your customers are getting the best options on the market. We pay attention to client needs so that you can best serve your customers. Contact us today for high-quality diamonds and trustworthy service.