Your diamond supplier has the potential to be so much more to your business than just a vendor; when you select the right source, they become a trusted partner. Rather than simply transactional, your relationship allows you to offer the finest end product to your customers — conveniently, consistently, and confidently. It allows you to grow and thrive in the industry. The first step, then, is finding that partner.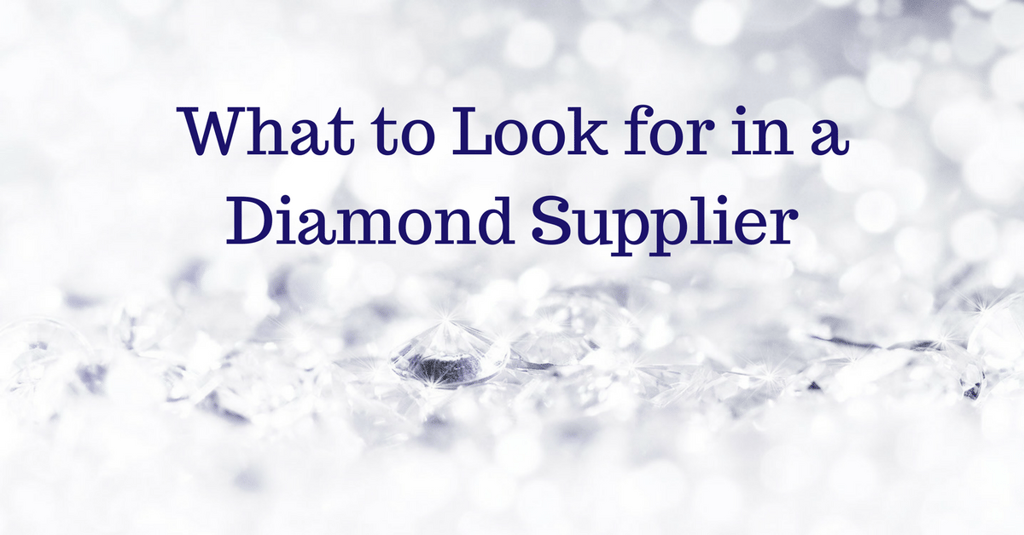 Look for:
Reputation
In real estate, they say the key to success is "location, location, location." In the jewelry industry, it is "reputation, reputation, reputation." While fiercely competitive, the jewelry world is incredibly small. You'll hear rumblings and rumors, referrals and recommendations, if you ask your connections. Also look on forums and websites for reviews and testimonials.
What do you hear? Do they operate with integrity? Are they consistent? Do they keep their word in terms of fulfillment? Are they known for their great inventory and level of personalized service, or will you simply be order #1234? Speak with them: do their words match their promises and claims?
Education
You may be wondering why we haven't mentioned diamonds yet. After all, we're talking about finding the best diamond supplier. But reputation and education are the cornerstones of a supplier's business. This ensures they know what to look for in a diamond in terms of the 4Cs, that they are trained properly, and that they have the knowledge and experience necessary to deliver the value you expect.
Gemological Institute of America (GIA) Diamond Graduate certification, for instance, demonstrates that your source has been educated by the most respected independent association in the world. Look, as well, for additional training from leading universities and industry guilds.
Inventory
Ah, here we are: the diamonds! When you sell upmarket pieces, diamonds are often an integral component. A supplier needs to be able to fulfil all of your needs. It's not just about delivering a great carat or two. It's being able to deliver center stones and assorted melee to craft halo and pavé settings. It's handling orders of one stone, two stones, 1000 stones, and whatever else you require, including colored diamonds, briolettes, sapphires. It's conflict-free, every time. You name it — your supplier should be able to deliver it.

And each stone should be of exceptional quality. Larger stones should come with a GIA grading report — no ands, ifs, or buts. You need this assurance. Melee is cost-prohibitive to grade, though, which is why the reputation of your supplier is so critical. You need to trust they are sorting the "wheat from the chaff" on your behalf.
Convenience
As mentioned — and as you've no doubt experienced — the jewelry world is fast and furious. You cannot afford lag time in bringing your concepts and designs to fruition and to market. A big question when choosing a supplier is can they deliver at the speed of business? And what, exactly, do their services encompasses? Diamonds, of course. But that's just the start.

Do they handle diamond cutting in-house versus outsourcing it to cutters with unvetted or questionable skills? Do they sort, set, and polish stones? Do they bag your order in an organized, logical manner and ship same- or next-day? Can they turn CAD drawings into fully-completed pieces? Can they tackle design on your behalf? What does convenience mean to you? Your supplier should be able to accommodate that definition.
Prices
While many outside the industry think that jewelry is a cash cow, insiders know that high overhead and tight margins can put the squeeze on your profits. Finding advantageous pricing is essential. Diamond prices do fluctuate to be sure; however, the right diamond supplier can offer consistency. Some offer a stellar deal one month, only to charge an exorbitant rate the next. This may be a function of their own overhead and margin issues, rather than market value. Look for a supplier that keeps price points in line.

With these elements and your "gut feeling," you can choose the best diamond supplier for your needs. With a full-service partner, you can take your business to new levels.