A special piece of jewelry is much more than the sum of its parts, more than metal or a few shiny stones. To the owner, it encompasses love, memories, family, tradition, new beginnings … jewelry captures any number of emotions, speaking volumes on behalf of those who wear it. This is what makes custom jewelry design so exciting; the opportunity to create such treasured pieces is both gratifying and humbling. Here are three tips to ensure the process is also a complete success!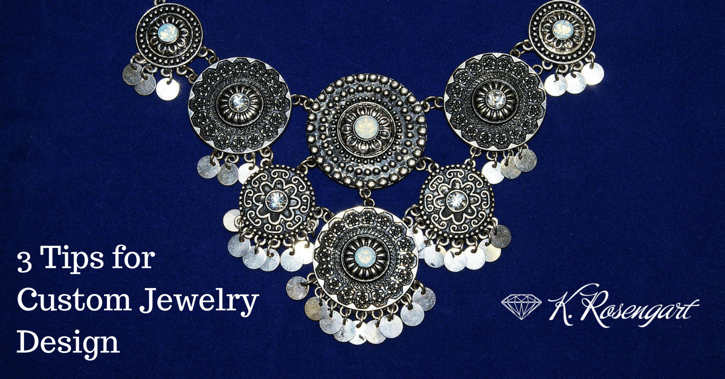 Utilize CAD for Jewelry Programs. If custom jewelry design is a consistent part of your offerings, invest in a computer aided design (CAD) program. You will realize an ROI quickly: not only is the actual design process streamlined, but you can simply send your renderings to a trusted supplier who can fill the order to your exact specifications or even complete the design for you. Wasting time on rejections and inadequate gemstones reduces your profit margin and impedes on your project timelines.

CAD can help eliminate or vastly mitigate this risk. Software is becoming a much more prominent player in the jewelry world; GIA even offers a certification in this area. Becoming familiar with its use can give you an edge in this competitive industry.
Maximize Impact. When designing custom jewelry, you can use a few tricks of the trade to maximize the impact of your pieces without adding exorbitant amounts to your budget. How? One technique is to employ melee diamonds. Doing so enhances the beauty and key qualities of the center stone, making it appear larger and brighter. A halo setting, for example, adds an unmistakable sense of opulence and decadence that belies the cost of your materials. You can easily and effectively add flexibility to your profit margins.

Another option is to select the optimal shape for your piece. For example, if you want to make a smaller stone appear larger to accommodate a client's desires and budget, you can go with a marquise. It delivers the most size per carat weight, maximizing the impact of smaller stones. On a related note, choosing the best setting is also a key in making your pieces as powerful as possible. For example, if you are creating an engagement ring with a radiant cut diamond, using a four-pronged setting will help you enhance the play of light, while holding the stone secure.
Select the Best Raw Materials. The finest custom jewelry begins with the best raw materials. Where you source your gemstones is critical, especially when it comes to melee diamonds. Many suppliers do not follow strict quality control measures. Their melee may be mixed with lab simulated stones or even faux diamonds. This can erode the quality of your finished product -- not to mention the trust your customers place in you. Your name is on the line; select only suppliers who deliver the quality you need. K Rosengart's expert team thoroughly, and meticulously, sorts each order, ensuring it meets your exacting needs. You will not have to worry about rejections or subpar stones marring your work.
Custom jewelry design is tremendously rewarding, particularly when you create a piece that instantly becomes a treasure in the eyes of your customer. Utilizing these tips can also help ensure the process is rewarding from a financial standpoint.