A Guest Post by Abby Sparks Jewelry
When you're in the business of designing custom engagement rings from scratch, it's important to help clients navigate through the vast world of jewelry terminology to get the best pieces for their styles and budgets. Not only is it our job to educate about the 4Cs and how to choose a center stone, but also to advise on the aesthetics and visual impact of their ring-- how to play up certain design details and how we can truly personalize the ring just for them and their unique style.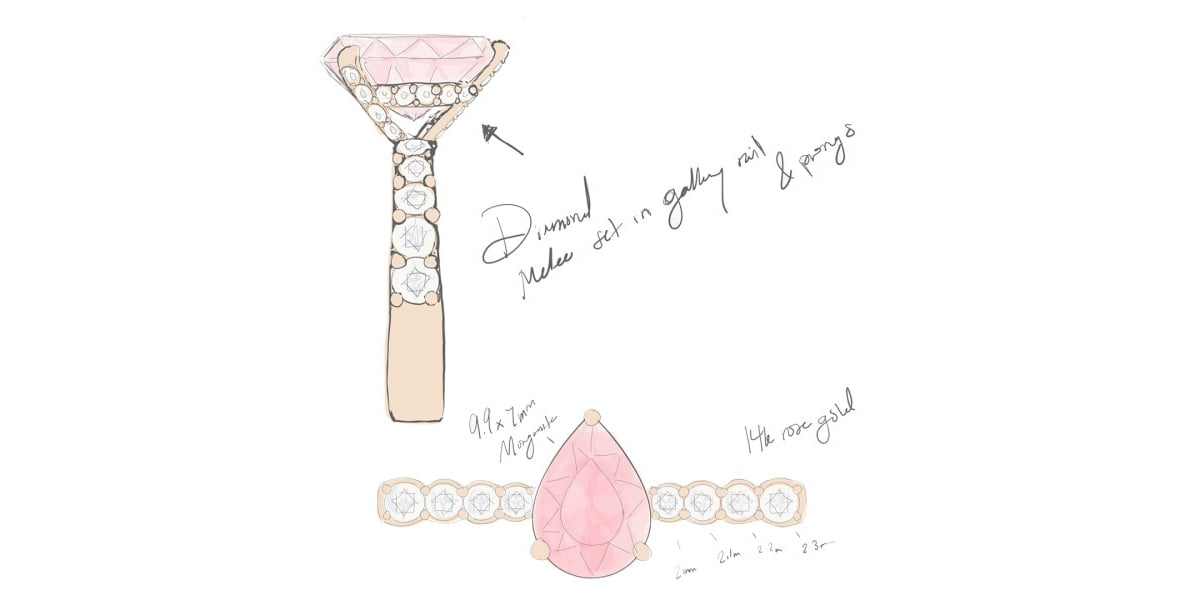 One surefire way to add personality is through artfully placed melee; whether it's emphasizing the center stone with a classic halo or scattering flush set melee in an asymmetrical pattern for a starry, celestial feel. Here are some of the ways we have seen melee used in one-of-a-kind engagement rings.
To Make a Sunburst or Starburst Pattern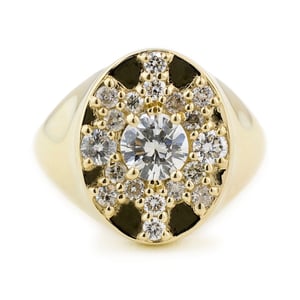 Diamond melee is the perfect way to achieve a sunburst or starburst motif, with "rays" of tiny diamonds emanating away from the center stone. To create this celestial effect, a designer will typically place the largest melee closest to the center stone, with melee decreasing in size as it gets further away. For starburst-style rings made with vertically placed, fanned-out baguettes, melee allows you to keep the overall shape star-like and the effect glimmering.
For an Ombre Effect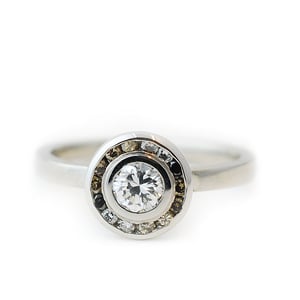 By using diamonds in a range of colors and clarity, you can create a dramatic ombre effect, ranging from bright white diamonds through champagne, to grey and even black stones. Using this technique, you can create this play of color in a halo around the center stone or encircling the ring's band. The designers at Abby Sparks Jewelry have also used ombre melee on split shank twisting rings with symmetrical ombre patterns twisting from either side of the center stone.
To Make the Center Stone Look Bigger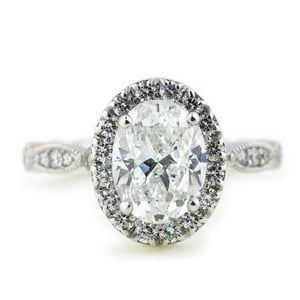 Encircling a diamond center stone with a sparkling diamond melee halo has got to be one of the best tricks to make that diamond center stop really pop and appear larger, and it is typically much more cost effective for the client than opting for a higher carat weight. Depending on the size of the diamond melee, the visual effect can make the diamond look considerably larger.
To Create a Different Shape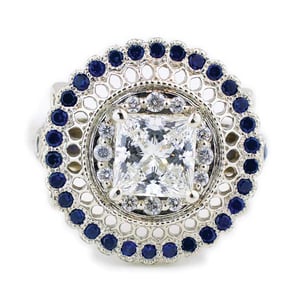 A big part of making custom jewelry is working with a client's existing heirloom jewelry and repurposing the stone(s) in a new design. Whether it's a hand-me-down from a great grandmother or an antique ring that your fiance proposed with, oftentimes heirloom jewelry just doesn't quite match up to the current owner's personal style. If you are lucky enough to inherit a diamond, it can be disappointing if you really don't like the cut of the center stone. Thankfully, with melee, jewelry designers are able to trick the eye into seeing a different shape. By encircling a princess cut diamond in a circular pattern of melee, you can create the illusion of a round cut stone. If you have a round cut stone and prefer a more angular cut, tiny melee can be placed in a square pattern around the stone. Recently, more brides have been wanting a geometric look to their rings. In these cases, designers can place three dots of melee on either side of the center stone to create triangles.
Thoughtfully placing melee is an important tool in creating jewelry, especially when your client wants to achieve an effect that can't be accomplished just by the center stone.
About Abby Sparks Jewelry
Abby Sparks Jewelry is a custom jewelry design studio specializing in one-of-a-kind engagement rings. For more unique engagement rings featuring creative melee placement, follow them on Instagram at @AbbySparksJewelry.