There are so many things I love about what I do, but one thing for sure that stands out is making custom pieces of jewelry using unique stones. It's so rewarding in so many ways. Not only do I get to handpick the right stone out of a collection of cool gemstones, but I also get to create a stunning piece of jewelry around that stone while working with the client to produce a meaningful and uniquely personal keepsake.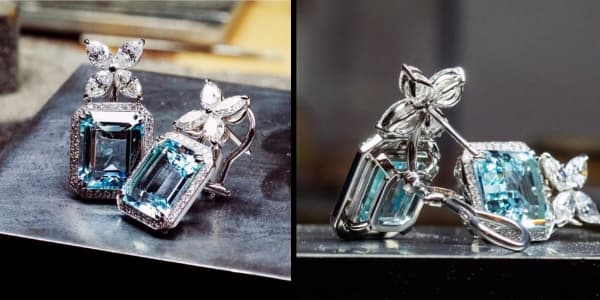 Pieces of History
Whether creating a custom engagement ring, a custom necklace to commemorate a graduation, or a pair of custom earrings from unique stones to celebrate a milestone birthday, I get to create a piece that marks a special time or occasion in someone's personal history -- a piece that becomes an heirloom that's lovingly passed down for generations to come.
Unique Stones: Aquamarine
I had a client come to me with an existing ring that had a very large aquamarine as the center stone. Her husband gave this ring to her to celebrate an anniversary many years earlier, so the stone was already special. (Plus, aquamarine is considered a stone of eternal youth and happiness.)
After many years of enjoyment, the client wanted to make a change and redesign the ring into something new. Together we decided to re-cut the stone into a matched set, so we could make a pair of earrings. Her son was getting married, and the stones just so happened to be the exact color of the dress she would be wearing at the wedding, so I knew we had to make something extra special. I sketched out some ideas and went to work.
Taking the old and creating the new -- while loving every minute of it --- is just one of the many things I love abut creating a custom piece of jewelry using cool gemstones.