Small but powerful: melee diamonds deliver tremendous value and versatility for jewelers. They can be set in halo settings, used to repair or replace lost or damaged stones, accent center stones in complex settings, and star in stunning, and intricate, patterns. These small diamonds add unlimited possibilities to custom jewelry design. Choosing the best setting styles and working with the right melee diamond supplier will help you maximize your opportunities with your clients for value and quality.
Best Supporting Stone Goes To… Melee!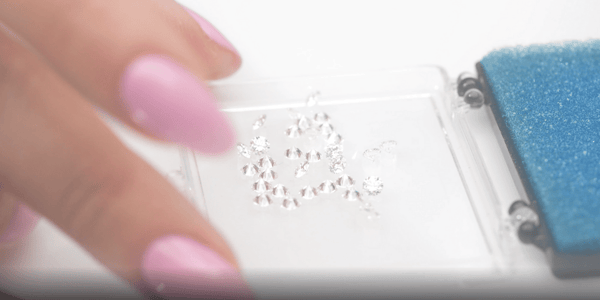 When many people think of melee, they think of "diamond chips". This is not the case; in fact, nothing could be further from the truth. These small stones are just as dazzling as their bigger counterparts. They are every bit as awe-inspiring – just on a smaller scale.
Melee is defined as diamonds that are less than 0.2 carats and can be as small as 0.001 carats. But as the Gemological Institute of America (GIA) puts it these "tiny diamonds" have a "big impact."
Increasingly, consumers want more intricate, complex designs. They want pieces that are true show-stoppers but are conscious of their budget at the same time. It seems an impossible balance to maintain… but this is where melee truly shines. Its strengths lie in its versatility, its ability to enhance the beauty of a center stone, make it appear larger, and add overall value.
To make the most of melee, consider these settings:
Pavé: This dramatic setting features small gems, like melee diamonds, in a honeycomb-type pattern. Pavé typically features shared prongs and three or more rows of melee, creating an exciting and dynamic look. This technique is advantageous for another reason: it is less expensive to purchase melee than larger stones of the same quality. This enables you to make an investment at a lower price point, and still optimize profits in the retail sector.
Halo: Another dramatic technique, halo settings boast a larger center stone surrounded by melee. The small diamonds serve to make the centerpiece appear bigger, and together, they add a ton of sparkle and shine to a piece. Halo, like pavé, is a popular setting choice for engagement rings, but they can easily be adapted to pendants, earrings, and other pieces
Delicate French V-Split: This setting style features split prongs. When viewed from the side, it appears to form a scallop shape. It can be used in conjunction with the pavé technique to minimize metal and place focus on the stones.
Surface Prong: Small, slightly raised prongs that go from the shank to the top of the diamond melees to keep them in place.
Bar: Melee is held in place by small bars on either side. This creates an elegant appeal.
Bezel: A slim rim of metal encircles the melee for a clean, streamlined look.
Flush: Each melee diamond is set individually into the metal without the use of prongs -- they are flush with the surface.
Bead Bright: This style is rather a hybrid, combining shared prongs with gently beveled sidewalls.
Channel: This is another prong-less style, featuring recessed metal walls with inlaid melee.
Fishtail: Here, the metal features small fishtail-shaped cuts into which the melee is set.
Working with a Trusted Melee Diamonds Supplier
Where to buy melee diamonds? When you work with K. Rosengart you will receive diamonds that have been sorted to ensure optimal consistency and quality.