Technology continues to keep us connected, and that fact has never been more apparent than during the COVID-19 crisis. Through the magic (and science) of technologies like live video streams, weddings are still happening with guests and loved ones watching from the comfort and safety of their own homes. Love stories and life continue to be celebrated. But what about the preparation side of the equation? That part can take months, even years. And what can you actually accomplish when planning a wedding virtually?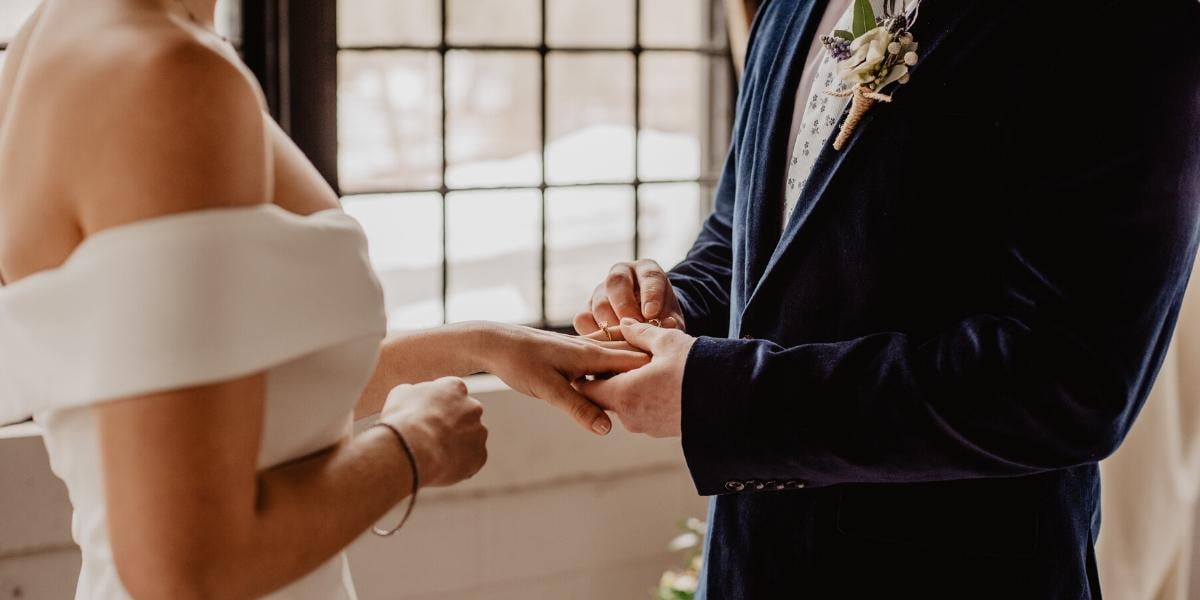 First Things First: How to Get Engaged During a Pandemic
Everyone has been impacted in different ways during this pandemic, and it has forced us all to look at our lives differently. Whether your focus has been on health, financial security, or your relationships, people are acting in accordance with their values, Many of us crave human connection, and our partners are the ones who fulfill the bulk of this need. That said, we are seeing many people step up and want to make a commitment of love to one another by getting engaged.

There are many traditions around getting engaged, but now more than ever, there is no wrong or right way to do it. This pandemic has caused people to think, "Maybe we should do this sooner rather than later," and "There is no better time than the present." There are also pressures from family members, friends, and society about how to propose... but at the end of the day, it's all about you, your love, and what works for you as a couple.

Getting engaged does not always involve buying a diamond. Proposing with a family heirloom has become a heartfelt option, and building a custom ring brings both the past and the present together.

The business of love has not changed, but the way in which we do business has. We are still able to create any kind of ring depending on your comfort level. There are all kinds of remote ways of doing business, so nothing should be put on hold.

Although it feels like everything has been put on hold or come to a screeching halt because we can't gather with friends and family, you don't have to put your love on hold.

No one ever dreams of getting engaged during a global pandemic, but it can be a tremendous source of light in this very dark and difficult time. Proposals may not live up to the original plan, but they sure can provide a lot of joy.

Love prevails.
Planning a Wedding Virtually
From virtual venue tours to video chats with florists, you might be surprised how many aspects of planning a wedding you can knock out using technology. The good news is, when it comes to designing engagement rings and wedding bands, doing so virtually is nothing new for K. Rosengart. In fact, despite being headquartered in the New York diamond district, K. Rosengart serves custom jewelry clients all over the United States. We have been helping engaged (and soon-to-be engaged) couples create beautiful, one-of-a-kind rings via phone and online consultations for as long as we can remember.
Ring Design Made Easy
In other words, while other aspects of your wedding planning might struggle to happen virtually, your custom engagement rings and wedding bands can easily be designed from home with help from K. Rosengart.
After you request a custom jewelry design online consultation, we can schedule a time to hop on a quick phone call or meet via Skype, FaceTime, or Zoom to talk about all the things you want in your custom rings.
Video chats are great opportunities to be creative and share some of your personal favorite pieces with us to get inspired. Plus, sharing your sense of style without having to travel with your favorite things is a huge bonus.
We can also send you videos and images of things we have made as well as different stone options so you can choose your favorite.
Next, we can sketch out all your ideas and create a 3D rendering in CAD for your review. Once you decide upon and approve a design, we can offer ring sizing assistance virtually as well. Simply download this DIY ring-sizing flyer for guidance on how to determine the correct finger size.
After the completion of your engagement rings and/or wedding bands, we will follow up with a virtual check up to make sure everything fits properly.
Sounds easy, right? That's because it is. A custom jewelry design online consultation with K. Rosengart is all about convenience and staying connected while allowing you to make decisions in the privacy of your own home.