There is a wide variety of non diamond wedding rings available. But, you should always make sure that you are completely satisfied with the ring you pick.
The first thing to look for when choosing your ring is to make certain it is full of quality craftsmanship. You want to be sure that the ring is well made, and has been polished properly. Also, the prongs should be well set onto the ring.
There are many different styles and designs of non diamond wedding rings to choose from as well. Non diamond wedding rings can have diamonds that imitate the look of real diamonds, or can have a more contemporary look where there are no diamonds in the band at all.
You will also want to find a good price on your ring as well. It doesn't matter how great or unusual your ring may be if you cannot afford it. A great place to start looking for a good price on non diamond wedding rings is online.*
You can get a non diamond wedding ring with a band that is either gold or silver, and that will ensure that you are always in the fashion. Non diamond wedding rings are growing in popularity as more and more people realize how expensive diamonds are, and how much pressure that puts on a marriage.
With non diamond wedding rings you can freely choose the style of band you want without having to worry about how the diamond will fit in. You can even include a small amount of diamond in your wedding ring if you really want to.
Whether you are looking for budget-friendly engagement ring options or just different styles that stand apart from traditional diamond engagement rings, the possibilities are nearly endless when it comes to non-diamond engagement rings. In fact, breaking away from traditional diamond rings does not mean there won't be ANY diamonds in your alternative. Maybe it just means the center stone is something a little different. In these "non-diamond" engagement rings, I always think accenting the center stone with diamond melee is key.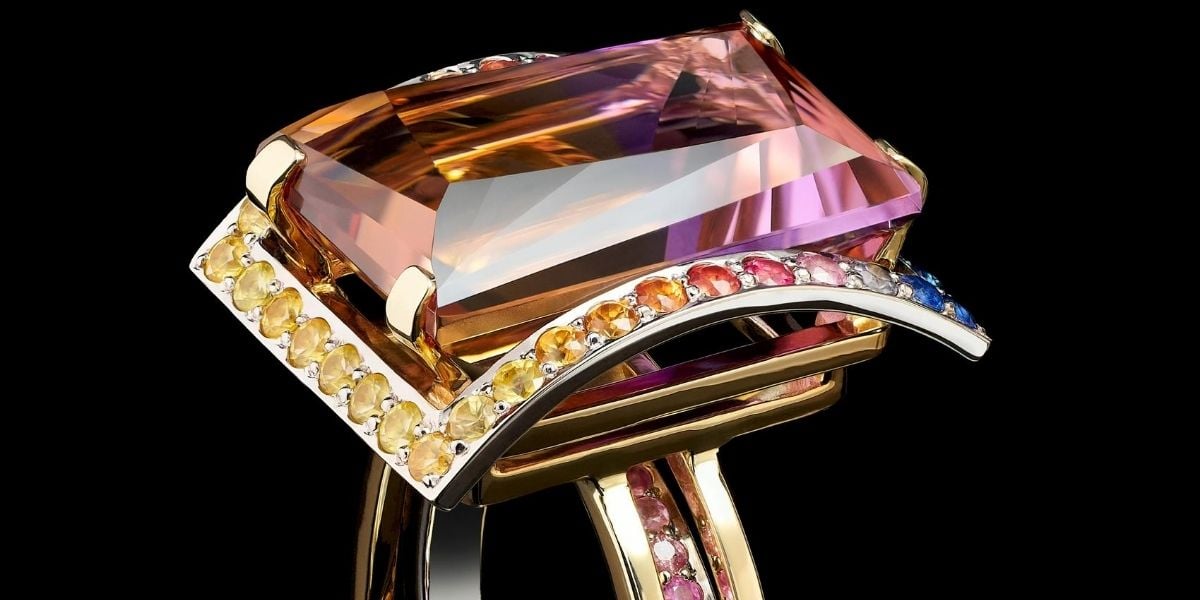 Because diamond melee stones are small, they are less expensive alternatives to diamond center stones. This means diamond sparkle can still be added to what might technically be classified as non-diamond engagement rings -- just in a more cost-effective way. Plus, the sparkle of the melee diamonds can draw attention to your non-diamond center stone, making it appear larger.
Following are 10 alternative engagement rings that, when bejeweled with melee diamond accents, can really be showstoppers.
10 Non-Diamond Engagement Rings to Consider
1. Green Emerald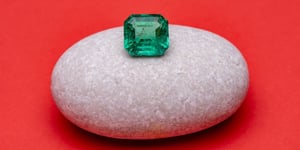 Many requests for alternative engagement rings fielded by K. Rosengart include using green emeralds. This is largely because green emerald stones can be cut into many different (and beautiful) shapes. They are also popular for non-diamond engagement rings because they come in a vast array of shades of green. By surrounding the center stone with diamond melee, the ring visually pops -- especially with a darker green emerald, as the contrast between the white melee diamonds and dark green center stone provides an exquisite juxtaposition. The price ranges greatly depending on the color, shape, and size of the green emerald center stone, but there are lots of options from which to choose.
2. Blue Sapphire
Princess Diana's (and Kate Middleton's) dark blue sapphire ring has only gained popularity and continues to be a strong contender for alternative engagement rings. Don't forget about the melee diamond halo surrounding the sapphire: it's not going anywhere! In fact, whatever color center stone you choose, the delicate diamond pave halo is still a stunning choice.
3. Pink Sapphire
The choices of colored stones are endless, especially in the sapphire category. We have seen a huge uptick in the use of pastel colors, and the range of choices for what are dubbed "fancy" sapphires are pink, orange, yellow, and all shades of green. Why pink? Pink exudes romance and femininity. Pinks sapphires also reflect light extremely well, delivering a diamond-like shine and sparkle.
4. Yellow Sapphire
Like all sapphires, yellow sapphires are colorless when pure. The iron present during the formation of the sapphire is what gives the stone its hue. As a color, yellow exudes happiness and joy. It's no wonder then that yellow sapphire is a popular choice for alternative engagement rings, as weddings and engagements are among some of the happiest moments in our lives.
5. Orange Sapphire
Orange is the new black... er, diamond. Also referred to as padparadscha sapphires, these pinkish-orange stones are the rarest of all sapphires. Padparadschas have gained in popularity thanks in part to Princess Eugenie's orange sapphire engagement ring. The name padparadscha comes from the Sanskrit word for lotus blossom, as the orange sapphire is of a similar color to the lotus flower.
6. Green Sapphire
When searching for a unique alternative to a diamond center stone, a green sapphire is an excellent option. but green sapphires are meant to evoke tranquility and calmness.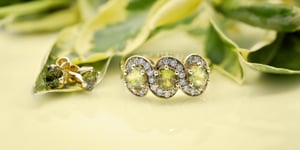 Why all the sapphire options for non-diamond engagement rings? Sapphires are harder than most other popular gemstones, rating nine out of 10 on the Mohs scale of mineral hardness. This puts them just one point behind a diamond, which ranks 10 out of 10 on the same scale. Therefore, sapphires are difficult to scratch or damage. They are incredibly durable and unlikely to succumb to the everyday wear and tear most engagement rings face.
Sapphire is also the September birthstone. Its popularity makes sense, as the Center for Disease Control and Prevention's birth rate by month data reveals the months of July through October to be the most popular birth months in the United States, and September falls right within that range.
7. Ruby
A clean ruby in the finest color will demand a high price per carat. When buying a ruby on a budget, inclusions are ok. In fact, there are some inclusions that can actually have a positive effect on the overall appearance of the ruby and can spread the color more evenly across the stone.
8. Pink Morganite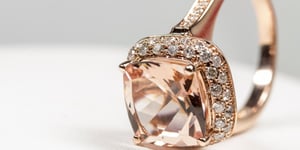 Morganite was named after J.P. Morgan, one of the greatest financiers in history. It's possible the stone's popularity for use in alternative engagement rings stems from its namesake's elite status. More likely, morganite's popularity comes from its facets' propensity to display no eye-visible inclusions.
9. Pale Blue Aquamarine
Considered by many to be just as elegant as a diamond center stone, a pale blue aquamarine gives a fresh vibe to an engagement ring. Lovers of the sea are often drawn to this gemstone for its oceanic hue and marine-inspired lore. Legend has it that the aquamarine originated in the treasure chests of mermaids.
10. Vintage Style
Another alternative engagement ring that we are seeing pop up a lot here at K. Rosengart is a vintage-style ring with a modern twist. The center stone can really be almost anything you desire -- from pearl to opal to any of the aforementioned gemstones, but the band is usually covered with melee diamonds to portray the look of a certain era. Some of the designs are so intricate, they are truly works of art. They can also give the appearance that the center stone is much larger, giving those who are budget conscious bigger bang their buck.
In Conclusion
There are many options out there to work with to satisfy your aesthetic preferences and financial needs. Remember -- any beautiful or meaningful center stone with just a little diamond melee sparkle can make a simple ring simply breathtaking. Contact K. Rosengart today to inquire about colored gemstone supply or custom engagement ring design.