When you buy melee-size diamonds, usually you want them to all precisely match. At K. Rosengart, we spend most of our time measuring and sorting diamonds to make sure they do! We're known for pairs and parcels that are virtually identical. But sometimes our clients ask us for melee that intentionally doesn't match. We help them create a group of gems that don't match in a very specific artistic way to create a unique design statement.
We call this service melee layouts. Here are a few creative melee layouts from recent projects. We hope they will inspire you to create your own design that doesn't match in an exciting new way.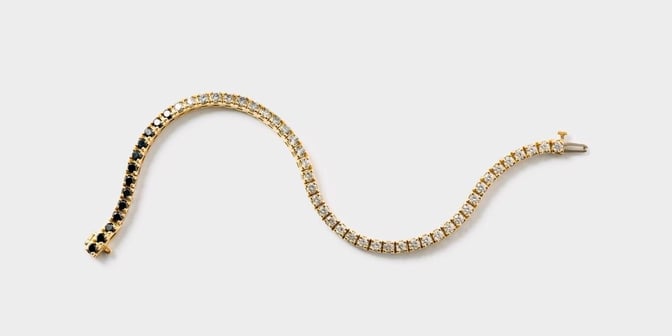 Ombre Color Layouts
An ombre color layout has gems that graduate smoothly in color. We often create these in a mix of sapphire and diamond but anything is possible. The key to a beautiful ombre color layout is small gradual differences in color. We can put them together with many small stones or a relatively few larger ones. To create a dramatic effect, you need to have enough stones to create the gradation: five isn't enough to get the full effect of the fade. We can do ombre layouts for drop or chandelier earrings, tennis bracelets, or necklaces. For example, for Perry Jewelry, we helped create an ombre layout for a tennis bracelet that went from white diamonds to gray diamonds to black diamonds. You can choose to have the color fade span the entire piece or create an arty "dipped" accent area: let your creativity guide you and we'll do the rest.
Cobblestone Melee Layouts
Cobblestone melee layouts have diamonds of different sizes that fit together in a pleasing way. This can be round brilliants in different sizes or a mosaic of fancy shapes that fits together. Think of building a stone wall, nestling together stones of different sizes and shapes to fit together into a harmonious whole.
Usually, we find that mixing three or five sizes of round brilliants makes for a more pleasing pattern than two. It's a very modern way to use odd sizes. To work best, the stones have to match in all other ways: facet patterns, color, and clarity.
Fabulous for wide bands, cuff bracelets, or medallions, fancy shape mosaic layouts are a combination of fancy-shaped diamonds that fill a defined area in a graceful way. You can choose the shapes you want or leave it to us to find what fits the space best. We've even done fancy shape mosaics with combinations of fancy colors with pale yellows, pinks, and greens, which was just stunning.
Artful Cluster Layouts
We love a creative challenge. Some of our customers are creating unique jewelry designs that feature a collage of gems in different shapes, sizes, and even colors rather than matching stones. We call this an artful cluster. Whether it's for an engagement ring or fashion piece, an artful cluster has that one-of-a-kind look that consumers love today. If you have a vision for a design or have a one-of-a-kind that you'd like to turn into a series without repeating it exactly, you can ask us to create artful cluster layouts that express your vision.
An artful cluster can be a clever way to use a combination of family stones or to repurpose the gems from an unworn piece in a modern way. Engagement rings with an artful cluster are especially popular because they have individual personalities. We can even mix in birthstones for a ring that symbolizes the couple or a family.
Graduated Size Layouts
A graduated size layout goes from small to large in smooth steps. This kind of layout is the most common of all the creative layout options. Graduated size layouts are popular for Riviere necklaces but we also do them for bracelets, rings, and even hoop earrings. We can even combine graduated sizes with graduated colors. Depending on the design the effect can be subtle or dramatic. Do you want to reduce the carat weight without a noticeable graduated effect or do you want to highlight the size difference to create depth? We can do it either way.
How We Do It
When we create a mixed layout, we hand-select each gem and place them individually. If it's a small grouping, we'll give it to you in a box. We've created color-coded maps of each stone but we sometimes find that using a drawing is too complicated for the setter. That's why for complicated layouts, we'll press each gem in place in a thin sheet of wax, culet first. You'll be charged the per-carat price of each gem, that's it. We don't charge more for creative layouts: it's part of our service. Timing depends on the complexity of the layout. It may take us a few weeks if we have to find precise colors and sizes to make your creative layout artful perfection.

Contact us today if you are looking to create a one-of-a-kind mixed-and-matched piece!