Marketing jewelry online might seem a bit more difficult these days. There's increased traffic, but there's also increased competition. Smaller stores especially need to separate themselves from the pack in order to stand out. When you ask yourself how to promote a jewelry business, the range of solutions might seem overwhelming. Remember that what's most important is to grow your community and not lose sight of what makes your brand unique.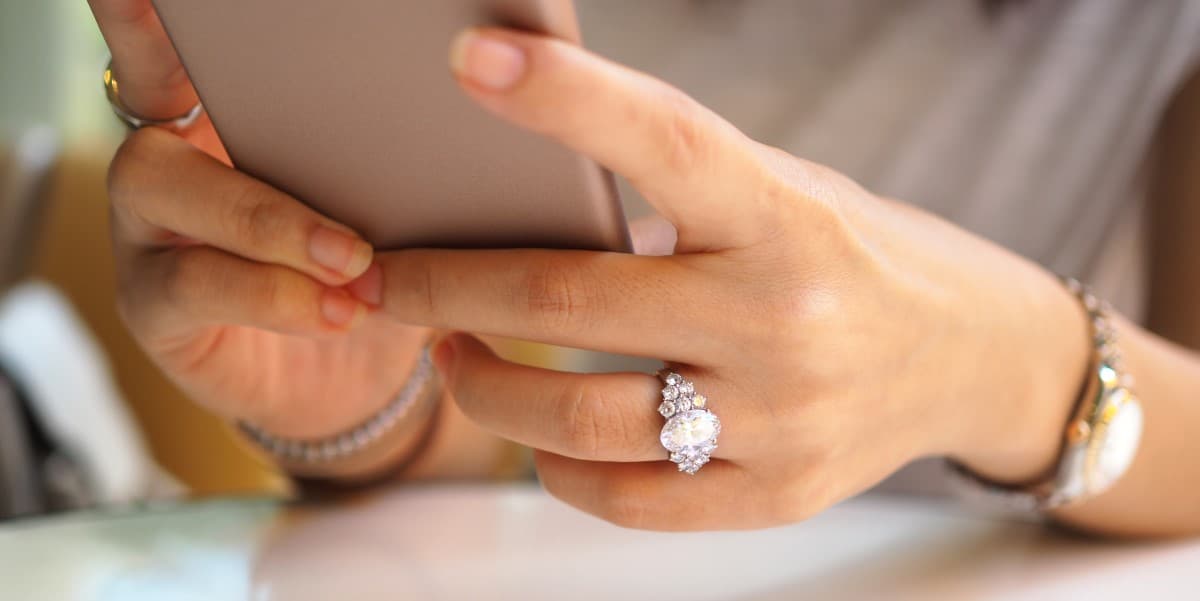 1. Use Storytelling to Appeal to Emotion
Every jewelry brand needs an identity. Brand creates loyalty just as much as a product does. This is because your brand's story shines through your product. Jewelry is an aesthetic choice, and an aesthetic is based on what speaks to us. It relies on metaphorical value.
Be honest when you tell your story, but do communicate it. What sets your story apart? Why is jewelry important to you? Don't bother trying to convince everyone else why it should be important to them. You're speaking to too many people at once, and when you have 50 reasons you can't be passionate about one. Simply tell your story with passion and others will identify with it. It's more important to stand by that one reason why you do what you do, and what your designs speak to. That's what people will latch onto.
This relies on an effective form of communicating these stories. That means content creation. Whether through blogs and articles, videos, apps, or other elements, content creation allows you to speak about your brand and your jewelry with your words, and to share your reasons.
2. Amp Up Your Credibility with Online Reviews
Customers often make their purchases based on trust. They're buying a luxury item. Who they purchase from is based on who they find reliable and trustworthy. Building, maintaining, and featuring a good online reputation is core to encouraging trust in new potential customers.
When you have good reviews, feature them. When someone says something great about your jewelry or service on social media, ask if you can share what they said. It's OK to solicit a review from someone who tells you how much they enjoy your jewelry. It's great that they love it; are they willing to share that with others?
Customer service is key to maintaining this kind of credibility. Good reviews come to those who listen to customers, respond to them in a timely fashion, and are accountable to correcting any error or misunderstanding.
3. Think Major Life Events (and Not Just Major Holidays)
Brick-and-mortar retailers rely on holidays for their big business. You'll also see increased online sales during these times, but you don't have to be limited to these times. Focus on life events and be creative with it.
Sure, it's expected that marketing jewelry online will push weddings and anniversaries. Have you ever advertised for graduations, quinceaneras, or starting a new job? Self-purchasers are more common than ever today (particularly women). Creative marketing campaigns have been built around buying for yourself when you're freshly single, for example. These campaigns must take some care, but they can create sale booms in seasons where you wouldn't expect them.
Content marketing can play a key role here too. An article about how new jewelry can make you feel great walking into the first day of a new job can encourage many to buy.
4. Develop an Instagram Hashtag Strategy
When marketing jewelry online, one must take advantage of platforms like Instagram. The return-on-investment for social media is reliable and has incredible potential. To overlook it is to hamstring your business. Hashtags on Instagram help to increase your following while making it trendy to share your images and popularize your jewelry.
Promotions on Instagram can go far. Remember to link your Instagram strategy to your other social media, such as Pinterest and YouTube. Younger purchasers and self-purchasers especially feel more engaged when these platforms are utilized.
It can be difficult to manage a strategy across so many social media platforms, especially while gearing each of them toward best practices. It's OK if you aren't able to do everything yourself. This is why marketing agencies exist. You can also partner with other brands and influencers who can share the load on certain campaigns.
5. Partner with Microinfluencers
Let's build on that last point. Learn how to partner with microinfluencers. These niche influencers can sometimes send thousands your way for a particular launch or sale. They can feature jewelry, do reviews, and show themselves wearing your pieces at events. Microinfluencers have a large impact on new purchasers and can be a key way to build your following and help you gain a better customer base.
Keep in mind that this isn't free. Microinfluencers work for a living. One of the more standard approaches is to offer them a percentage of every sale that they bring in. This can be measured in a variety of ways. The easiest of these is by using a code the influencer gives their audience. They enter this code when they make their purchase for a bit of savings, and it also tells you that the influencer is the one who sent them there.
Used well, this can create incredible demand for a product. Don't just jettison the influencer when you're done with each other, either. Microinfluencers enjoy working with businesses who are reliable, and you can form a mutually beneficial relationship with each other. Even if there's no current campaign you want their help with, maintain this relationship so that it's still helpful to you both in the future.
One Last Thing
There's no single correct answer to how to promote a jewelry business. Don't overwhelm yourself. Manage each part without losing control of it, or get help to do so. It's far better to execute one strategy really well than it is to follow three strategies half-heartedly. As you get better at one and more efficient at it, you'll be able to start developing the next when you're ready.