We can do virtually anything online today: conduct business, find long-lost friends, stock up on necessities, and order a last-minute birthday gift that magically appears on the recipient's doorstep just in the nick of time. We can even scan a picture of our hands and "try on" rings thanks to the virtual reality options offered by many jewelry brands.
But this only gives a sense of what the piece may look like. For many customers, visiting a "real" brick-and-mortar location is essential. How does the ring fit? How does the light hit the diamond-encrusted necklace? How does the clasp on this bracelet work? Drawing customers into your jewelry store boosts sales and gives you the opportunity to wow them with exceptional service.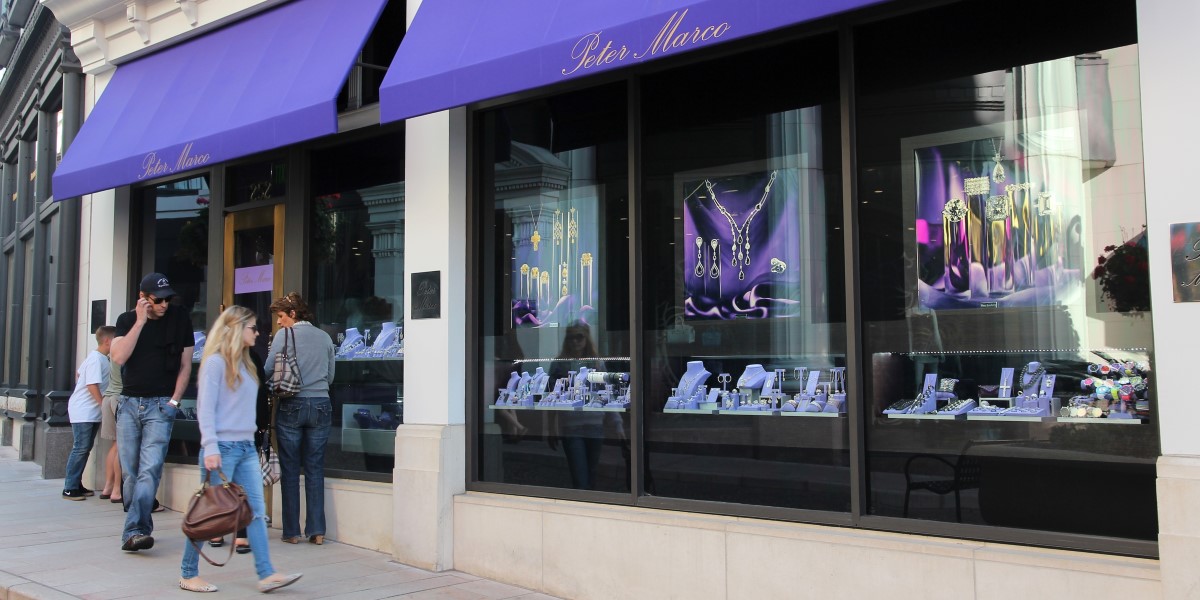 Now how do you get them to come in and see what you have to offer? Try these seven ideas to increase jewelry sales:
1. Offer a Comfortable Lounge Area
Help customers feel right at home! Buying jewelry is an intensely personal experience, and people often need time to consider their options.
Other times, shopping is just a lot of work!
Comfy couches/chairs in a separate lounge area allow customers to relax, think, and confer with their partners or friends. Offer complimentary bottled water, tea, and coffee - and, of course, offer charging stations for their devices.
Make your jewelry store a sought after destination, not only because of your inventory but because of the welcoming, comfortable atmosphere.
2. Don't Forget the Children
Today's busy couples often have children in tow. Make sure that they, too, are comfortable and happy so their parents can shop. A kids' zone with games, books, puzzles, and other toys will help keep them occupied.
Many jewelry stores can seem decidedly kid-unfriendly. If it is appropriate for your brand, though, don't forget them. Their parents will be appreciative!
3. Free Wifi
This is a nice little perk in today's connected world. It also allows customers to do some quick Googling (what is the 4th C?!) and text their recipients (You like princess cuts, right? No reason, just asking!).
4. Host Special Events
Use your space and your store to the fullest to best serve customers and to increase jewelry sales. You could, for instance, have classes or workshops: "Confused about the 4Cs? We'll answer all your questions!" You can then lead them through various products to take the intimidation out of the process.
Or why not have a special evening where you extend your hours and invite shoppers in for a complimentary glass of wine and some browsing? This is great around the holidays.
Another idea: team up with related businesses (florists, spas, stylists, cosmetics, etc.) and host an inclusive event so people can connect - and possibly take advantage of event-specific coupons and discounts!
5. Give Back
Today's consumers, particularly millennials, want to support brands that support the community. Everything from organizing a volunteer cleanup at the park to raising funds for an area nonprofit are great ways to show you care. And they will draw attention to your store as well.
6. Integrate - and Incentivize - Physical Visits with Social Media
Maintaining a healthy mix of physical and digital interactions is critical. You can connect with your customers on Instagram, Facebook, and other platforms and provide special incentives (e.g., discounts) when they make a trip into your jewelry store.
7. Provide Above-and-Beyond Service
The jewelry business is still built on relationships. You can attract new customers and keep existing ones coming back by providing stellar service. Consider going a step beyond: can you offer services, like free jewelry cleaning or ring fitting?
Which of these tips are you going to put into action to increase jewelry sales and ensure your customers are satisfied with every step of the process?