It can be very difficult to break through all the noise when it comes to jewelry marketing. You must find ways to set yourself apart. At the same time, you can't ignore the basics. That leaves you with a lot of work to do!
What are some ways you can make yourself more productive when it comes to your marketing efforts? How can you more efficiently use the time, energy, and resources you put into your jewelry marketing? Here are some jewelry advertising ideas to ramp up your results.
1. Post across multiple social media platforms. You can design different posts for Facebook, Instagram, Twitter, Reddit, your website, and other platforms. It's more efficient to create one post and a reliable method to quickly adapt the content so that it presents well on those different platforms.
You don't want posts to be identical, because different demographics utilize different platforms. Use a "base," and then customize it for each.
2. Utilize a variety of photography angles. Take photographs that show pieces further away on your model (i.e., macro photos), shots that isolate the pieces, and pictures that show them being worn in the real world. Lead with the macro photos, but the more diverse your photos look when your customers delve down into them, the more they'll imagine all the different situations in which they'll wear your pieces.
3. Don't use the same types of model all the time. Jewelry has universal appeal and transcends culture, race, age, gender, and other identifiers. Make sure your models are equally diverse. Men, women, people of color, plus-size, trans folks, androgynous, mature… go beyond what's expected.
Bold designers and brands recognize the need for inclusion. Nineteen-year-old Madeline Stuart, who has Downs Syndrome, for example, confidently strutted her stuff down the catwalk at New York Fashion Week (and crushed it!). Represent the full spectrum of people who can find delight and value in your pieces, not just a narrow "model" segment.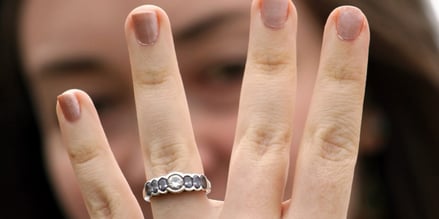 4. The best jewelry marketing is the free kind. Wear pieces in your everyday life. Inevitably, you'll be asked about them, and you can talk to people about your business. You can give those people your business card, or if they have a minute, they may even call up your website on the spot and ask you to walk them through a purchase.
5. Be willing to give jewelry out on loan to people you trust. Make sure you have insurance that covers this in case a piece is lost or stolen. Getting jewelry on people out in the real world can help get your name out there. They can share your information. Just make sure you get your pieces on people who are personable, charming, and willing to talk you up.
6. Is there a story behind a certain design? Tell it! Customers love to know the inspiration behind a piece. It helps them feel as if a purchase is a way of connecting to that inspiration. They'll be more comfortable with that than simply buying something from a faceless, impersonal business.
7. Cross-promote with other websites. Your jewelry advertising ideas can take advantage of a reach beyond your own. You can share each other's ads so that you can each access a new audience. If you run deals that involve both businesses, make sure you're working with someone you can rely on and who will keep up their end of that deal so that customers are fulfilled.
8. It can be a big boost to work with social media influencers. Beauty, fashion, and jewelry channels on YouTube are widely watched. Social media influencers may have outsized personalities, but they tend to be more low-key about their endorsements. This is often more effective because it's a genuine way of talking to generations who feel jaded and wary of trusting traditional advertisements.
9. Don't get stationary. Teach yourself to be able to run elements of your business from smartphones and tablets. You don't have to rely on them or learn overnight, but the more you can rely on running your business on the go, the more flexible and responsive your business can be.
10. Feature your jewelry at different retail boutiques. These won't be jewelry stores, but a display can capture the eyes of customers who are there for something else. Figure out a fair cut that the retailer gets for any sales. This won't succeed at all locations, but chances are you'll turn up a few places where you can have ongoing, productive relationships.
11. When you go to professional shows and events, engage with everyone. Too many people at these kinds of shows are wrapped up in their phones, ignoring potential customers. A couple doesn't look like the kind of people who would buy. How do you know until you talk to them? Don't prejudge.
If there's a lull in patronage, talk to other business owners at booths. Maybe they'll become customers, or they'll want to feature your jewelry in their stores, or you can help advertise for each other. You spent money to be at the event. Whatever situation presents itself, put the work in so that your investment isn't wasted.
12. Keep up relationships with current customers. Your best customers will be the ones who follow you. Reward them by offering them pieces on loan, giving them discounts if they've brought in several friends, or just asking what they think of new pieces.
This level of engagement helps them feel connected and invested in your jewelry and in your business. When your best customers want you to do well, they'll often become your best salespeople simply because they believe in you so much.
13. Whether it's social media, a blog post, emails from customers, a phone call... respond as often as you can. Write back to as many comments and inquiries as possible. Address the specifics that are brought up. It's not just the person you're writing back to who sees this. The people around them will see it, too, and view you as an engaged, responsible business.
14. Let people know who you are. Jewelry advertising ideas all work off the concept of a brand. Even if the jewelry has a story, if customers don't know who's telling that story, their interest will only go so far. Don't peel your life wide open, but do tell people why you love jewelry, how it makes you feel, and what steps you took to launch your own business.
15. Use the tools available. Small businesses can selectively compete with large ones because of how Google AdWords, Facebook, and other platforms work. Don't just use the paid advertising that's offered. Learn about SEO. Learn about each social media platform's algorithms. The right post with the right hashtags can get thousands of impressions without you spending a cent.
Once you know how these things work, you'll also know how to spend your advertising budget on these platforms much more efficiently. And, if you eventually hire someone else to do this work, you'll be much better equipped to recognize their level of knowledge and capability.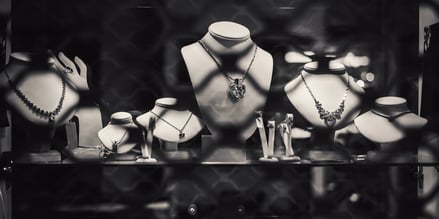 16. Edit everything. Jewelry speaks to refinement. People look for perfection. You can have the most beautiful piece of jewelry ever created. If the web page or brochure presenting it has a misspelled word or a misaligned image, it will reflect a lack of refinement and a failure of attention to detail. Customers will always associate the professionalism of presentation with the quality of the product. This goes double for luxury items such as jewelry.
17. Allow your personality into your jewelry. Take chances with designs. Not everything will take off, but if you can come up with a successful design that you create and no one else does, that design can make a business overnight. The more personal something is, the more genuinely you'll be able to communicate why people through your advertising should buy it.
18. Take some behind-the-scenes photos. Customers love to see how something is made. Don't share anything that's top secret, but a little transparency into your process can go a long way in building trust and interest from customers. It's also a chance to display the amount of work and care that goes into a piece, which helps customers to justify the cost.
19. Donate pieces to charity auctions. You'll help raise money for good causes, and you'll get your name out there to everyone attending. Whether or not attendees bid on your pieces, they'll still see your business name, the quality of your jewelry, and they'll keep both in mind.
20. Tease sales. This way, people know about them beforehand, can get excited, and can already have the conversation with themselves that justifies buying something they want. This helps sales to become an event. Mix a few discounts you've teased ahead of time with one or two unexpected ones the come as a surprise. This blends anticipation for your sale with an opportunity for a little impulse buying.
In closing, don't try everything at once. If you pursue all 20 of these jewelry advertising ideas simultaneously, you won't have the focus to really develop any single one. Get good at the two or three that really pop out at you. Once those new habits are folded into your business and they feel natural, select another two or three to work on.
In fact, several steps mentioned here work well when built off other steps. This helps you really focus on getting the most out of specific sales strategies and good habits without overwhelming yourself with new ideas.
Another great way to sell more jewelry is to partner with a diamond supplier like K. Rosengart who guarantees 100% natural diamond melee. Disclosing this to potential customers will help them appreciate and trust the quality of your pieces that much more.