Your pieces are stunning. Your materials are sourced carefully and ethically, with an eye towards enduring quality and value. Your rings, necklaces, bracelets, and more are made with exceptional craftsmanship and exacting attention to detail. Your business delivers outstanding customer service. But is this enough to stand out?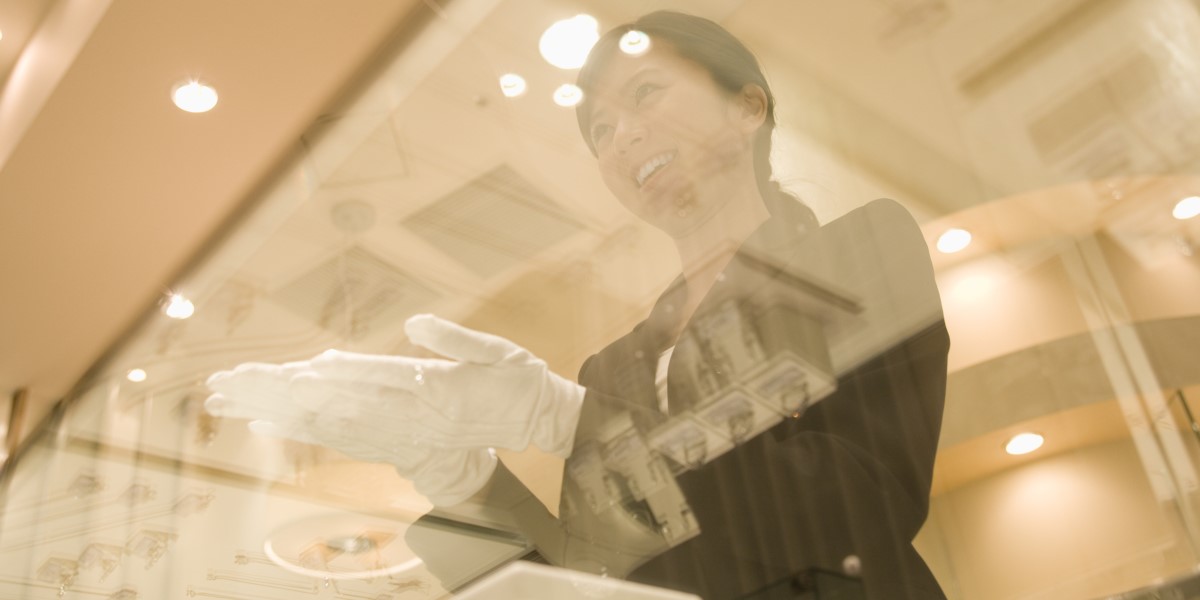 If customers are in the market for the ideal engagement ring, the perfect anniversary pendant, or the most stunning "Congratulations on the Promotion" gift for themselves, they have a virtually endless number of jewelry brands from which to choose. How do you ensure they choose you?
5 Tips to Help You Shine a Spotlight On Your Brand
Let consumers know that your business has the solution they want and need.
1. To Thine Own Self Be True
What makes your jewelry your jewelry? What makes it different from that offered by countless other jewelry brands? In other words, what is your signature style?
Harry Winston, for example, "transformed diamonds into art and revolutionized modern jewelry" - or so says HarryWinston.com. It's true though: the diamonds take center stage in an artistic tour de force. (And a little ego about it is totally on brand!)
These pieces are differentiated by their utterly minimal settings (metal rarely shows) and sparing use of color. The diamonds are crisp, clear, and arranged to create magical shapes. If you know your jewelry, you can look at a red carpet and say, "That's a Harry Winston."
This is, perhaps, an extreme example! But the same applies: use your personal touch to make your jewelry come alive. Utilize this element, this aesthetic, or this design philosophy throughout your line.
2. Develop a Jewelry Marketing Plan
No, it's not as exciting as thinking about your signature style. But it is, all the same, essential!
Your jewelry marketing plan will help you clarify your place in the market - and take full advantage of it. For example, you may be targeting the luxury jewelry market, which is seeing substantial increases in growth. Your insight into this demographic will guide marketing decisions, such as how and where you advertise, as well as how you price.
3. Be Meticulous
Yes, jewelry is dazzle and sparkle and innovation. Behind the scenes, though, it's all about consistency! This is what your brand is built on, and it means creating a cohesive identity in terms of how you present your business to the world.
Does your physical location (if applicable), your website, your social media pages, your jewelry marketing plan, your appearance in person, etc., reflect the unique nature of your brand?
It takes into account everything from the large (e.g., your signature style) to the small. Are the fonts and colors on your website reflected elsewhere, such as in your printed assets or physical location? Does the tone you convey in "real life" carry through online and vice versa.
You must align all of these aspects so customers have consistent experience whether they encounter you online, in person, or on their best friend's finger as they admire their engagement ring.
4. Tell Your Brand Story
Stories have power. You can explain features and benefits - how your metal is the best metal, how your diamonds are the best diamonds, how your craftspeople are the best craftspeople… you get the idea - and this is important.
But facts and figures and "marketing speak" do not communicate as resoundingly as stories. They have the power to reach behind the logic and get to the emotion. Jewelry brand Dannijo, founded by Danielle and Jodie Snyder, do this masterfully.
The sisters believe compelling narratives are the key. They say, "The term 'lifestyle' is thrown around a lot and for us; it's about storytelling and engaging with people in a conversational way. We want our brand to be viewed in the same way you'd view a friend who's changing and evolving, but still has a strong sense of DNA."
One of the tools they leverage well is Instagram. Their stories are full of… well, stories. And personality.
You have a unique story, and it can help you stand apart from other jewelry brands.
Tell it.
5. Let Your Customers Do the Talking (or Some of It, At Least!)
Did you know that consumers trust their peers more than brands? Or that 82% of consumers seek recommendations from their peers before making a purchase? Or that there are approximately 2.4 billion brand-related conversations in the US alone - every day?
The goal of a jewelry marketing plan is to guide the conversation around your brand, but consumers play an integral role. User-generated content is invaluable.
Testimonials and reviews, for example, allow customers to speak truthfully about the experiences they had with you, about the quality of your pieces, about the reaction of their recipient when they gifted a gorgeous necklace, about how empowering their custom "divorce ring" was….
As important as it is for you to tell your story, it is equally essential that customers tell theirs. Their peers respond to the authenticity. Word of mouth is very much alive (and kicking). Don't neglect this vital aspect of your overall strategy.
Is your jewelry brand a diamond in the rough? Bring out the beauty and value of your business to your audience. Don't just stand out: shine.