The market for melee diamonds has certainly changed over the years, but how? Well, Melee has had its place in diamond jewelry since diamonds first gained the stature they still have today. Melee diamonds play a key role in complementing larger stones, adding value, and giving off an aura of true artistic design. In the last decade and a half, the importance of–and demand for–melee diamonds has grown in the diamond jewelry market. A large amount of this increase in demand can be attributed to halo settings in engagement rings becoming more popular. Those looking to buy a diamond ring have an increased interest in creating a custom design. Also, shoppers are also more informed about conflict-free diamonds and have more options than ever to compare prices to, making them more cost-conscious.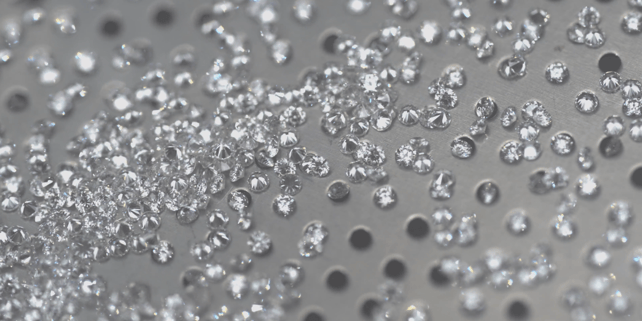 When you are working with a company like K. Rosengart you can rest assured that we are providing you with the right melee diamonds, along with our other services, ensuring that you can confidently sell the best products to your clients, with proof of quality to back it up. Meeting customer expectations is easier with the right partners. Understanding the market for melee diamonds – and the role they can play in your business – is an important first step.
Melee Diamonds and Their Role in the Industry
So, due in large part to the popularity of halo settings in engagement rings, the melee diamond market has steadily risen over the past twenty years. While they may be small – ranging from 0.001 carats to 0.2 carats and measuring from about 0.6mm to 3.5mm – they are integral in a variety of designs. As people have taken a bigger interest in making their diamond jewelry pieces unique, and as the average buyer has become more cost-conscious, melee diamonds have spurred a movement for the design of larger-scale pieces that have eye-catching and jaw-dropping qualities at an attainable price.
Currently, the highest demand for melee diamonds is being seen in large, developed nations such as the US and China, as well as emerging markets like India. Other countries throughout Europe and the Middle East have also experienced strong growth in demand for diamonds, including melee diamonds, over the past few decades.
So, how will the melee diamond market change over the next few years? Well, if people continue to want more customized, unique, pieces, then melee will continue to be a very strong asset to jewelers.
Working with a GIA-certified diamond supplier builds confidence in your purchases, so be sure to reach out to us if you have any questions regarding melee diamond supply, sorting, analysis, and more. Melee diamonds are integral in the creation of wonderfully unique, intricate, dazzling designs. Contact K. Rosengart to learn more about these versatile stones, or to look into placing an order for your collection.