There is no doubt that diamonds dazzle. They are show-stoppers when set in opulent halo arrangements; they are unassuming beauties in a solitaire ring; they are heirlooms; they are treasures both gifted and self-gifted to celebrate milestones. But when we get down to brass tacks - or platinum prong settings, as the case may be - it is important to understand how diamond prices are determined. This is a key consideration for both jewelry industry professionals and discerning customers.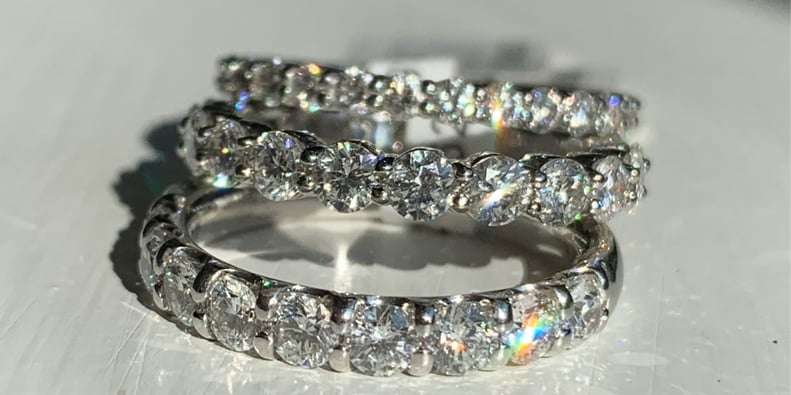 Diamond prices are so hard to determine. There are so many factors that go into determining the price of a diamond and whether or not you're getting the best price. Learn what to look for so when you see the same grades for the four c's you can understand the difference and get the best diamond for the best price and feel good about your decision.
The Fifth C
Anyone even tangentially involved in the diamond world knows about the 4 Cs: cut, color, clarity, and carat weight. There is another, equally important C: cost. This is often seen as mysterious and elusive. It should not be: we believe in transparency in the diamond industry, particularly as it relates to price.
To understand diamond prices over time, you need to know one name: De Beers. De Beers is a behemoth in the diamond industry, controlling 35-40% of the world's roughs. While this is a marked decline from the 85% they have enjoyed in the recent past, it is certainly significant., In other words, what they do is a bellwether when it comes to pricing.
Every season, De Beers hosts 10 exclusive events for "sight holders" each year. Only 84 sight holders - worldwide - who are invited to view and purchase diamonds straight from De Beers. The diamond giant decides the terms, from how much supply is released to what type of diamond roughs are sold and at what price. Dealers do not have the ability to negotiate: they can either say "yes" or "no" to boxes valued at millions of dollars.
De Beers exerts further control by restricting buyers from selling to retailers who might lower prices and asserting the right to audit companies. These rules are strictly enforced; sight holders are essentially blacklisted if they fail to comply. All of this adds to up De Beers' virtually dictating the market. If diamond prices trend downward, they release fewer diamonds to decrease supply or charge sight holders higher prices.
If supply is strong (i.e. a new supplier comes out of the woodwork), they release a flood of diamonds onto the market at low prices to put the competitor out of commission. In this way, De Beers have influenced diamond prices over time.
Grading
In 1976 Martin Rapaport established a diamond "rap list" that gave price benchmarks for round, pear, and marquise-cut diamonds. The benchmarks are published monthly and only available to those in the trade. Rappaport guide focuses solely on Color, Clarity, and Carat but does not take into consideration cut, polish and symmetry. It assumes all diamonds are finely cut and equal. It's important to understand the different variables as this will determine if you're buying at the list Rap price or deeply discounted off of the Rap price.
Every Gia graded stone is evaluated by more than one grader. Often stones sit right between the borderline of two grades. If this happens a senior grader is asked to make the final call. If the stone falls on the higher grade side it influences the price and the same goes for when the stone falls on the lower side. It takes an experienced gemologist to be able to tell you whether or not the stone is a good deal or not.
There are many factors to consider when considering the grade of the stone. A SI1 stone can look very different depending on the location and type of inclusion it has. Seeing a stone in person and relying on a gemologist is key in accessing the stones value. Relying on branded stones such as Hearts and Arrows does result in greater symmetry than other diamonds but it does not always mean it has a better cut.
Prices fluctuate depending on the different shapes and popularity. Rounds are the most expensive because they are always in high demand. They also result in the greatest rough loss when cut. The most highly valued diamonds have no color. The more color the diamond has the lower the grade is on the scale. The more yellow and brown a diamond has that falls below a Z grade instantly goes up in value and is to be considered a "fancy" colored diamond again changing the value.
Fluorescence will decrease the value for diamonds that are D-F color grade but could increase the value of G-J diamonds depending on the color of the fluorescence. Medium to strong can give the stone a milky appearance which would lower the overall value, but blue fluorescence in an off color stone can counteract and actually improve the color in lower color grades increasing the value.
Buying a diamond from a reputable store that offers warranties, maintenance, cleaning, sizing, updating appraisals can ultimately save you money. For consumers that want the ability to trade in or trade up this is a hard opportunity to pass up on and offers tremendous added value.
There are good deals out there but no great deals in the diamond world. If a diamond is priced low you need to understand why. There is nothing wrong with purchasing a lower priced diamond you just have to understand why its at that price. The key thing to remember is what determines the diamonds price and being well informed.
It is absolutely key to avoid buying a diamond solely based on it grading report. You must work with an experienced gemologist that explains all the essentials that contribute to the price.
What Can We Expect Going Forward?
De Beers is responding to the firestorm that was 2020 and plans to release 33-35 million carats in 2021, a decrease from their projected 34-36 million carts. In 2022 and 2023, we can expect further reductions to 30-33 million carats.
Mark Cutifani, De Beers' chairman says,, "There's an appropriate degree of prudence being exercised in what we're forecasting going forward, and we certainly aren't going to be a contributor to overstocking across the industry now. Given the supply situation, we're going to watch that very carefully. We won't push more production out there unless we're comfortable prices are going to increase."
What this means is that diamond costs will hold steady, and supply will be limited to hold the market price.
What does this mean for you? It is more important than ever to find an experienced, trusted source for high quality diamonds and diamond melee. This empowers you to seek the best prices and the best products on the market, while receiving assurance that the diamonds meet the strictest standards in terms of ethical sourcing and quality.
K. Rosengart works directly with sight holders so it's mine to market which offers the best prices possible. Along with our strong sourcing partners we also take great pride in educating our clients about our precision cut diamonds and what separates us from the competition.