Many folks seem to think that they need to sell their old jewelry and just take the money to purchase something new. Selling old jewelry is hard to do, as it is usually dated. In the end, you will get pennies on the dollar. The best thing to do is to repurpose the stones. By making new jewelry out of old, you can maintain the sentimental value while creating something more modern or more in line with your own personal style. You can even get several new pieces of jewelry from redesigning one old piece. This can include making new rings from old diamonds or creating dazzling new earrings and necklaces from old rubies, sapphires, and other precious gems.
What Is the Process for Making New Jewelry Out of Old?
If you are ready to repurpose your old jewelry, your first step is to contact a jeweler. Trust a professional to carefully remove the diamonds and gemstones from your existing piece. They can sell your scrap gold for you, and you can use that money towards your new piece or pieces. Be sure to choose a reputable jeweler who stands behind everything they do.
Coming up with new ideas to redesign an old piece can be fun and exciting. Using CAD design, your jeweler can help you play around with different ideas and see exactly what your piece(s) will look like before anything is cast or any of the stones are set and finished.
After your CAD rendering is finalized, a 3D model is printed in wax. These wax models are then sent for casting and stone setting. Once complete, your new jewelry will go for a final polish before being ready for you to wear and enjoy.
What Is the Cost for Redesigning a Piece of Jewelry?
Making new jewelry out of old may sound costly, but it doesn't have to be. The cost to redesign a piece varies greatly depending on the scope of the project. To get an accurate price, it's best to schedule a consultation with a jeweler to review what you have and discuss what your vision is.
Work with someone who has experience in redesigning old jewelry - someone who can show you pictures of before and after work they have done. Most of all, make sure they understand your sense of style so you feel comfortable.
Before & After: Diamond Brooch to Diamond Ring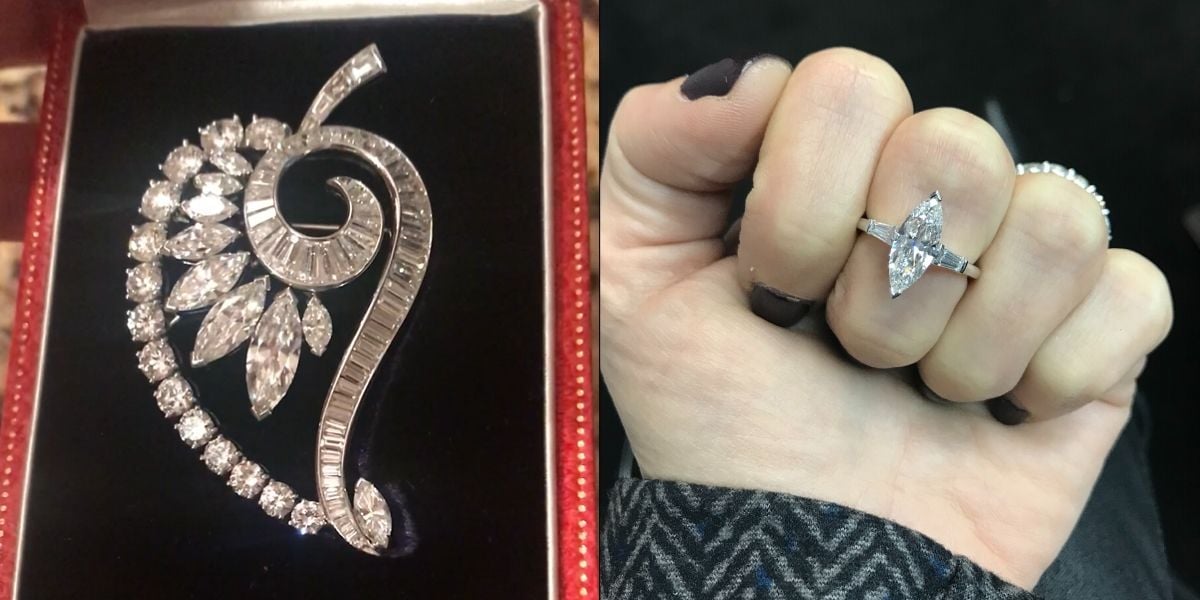 Give Us a Ring About Repurposing Your Old Rings, Brooches, and More
Many of us have inherited old jewelry from family members and want to create something new. At K. Rosengart, we understand how important the sentimental value of this heirloom jewelry is, and we can help you create something you can enjoy wearing on a daily basis.
>> Contact us today at 212-355-5025 or sales@krosengart.com.
Update July 13, 2020 - received the below note from one of our clients:
Stephen Kris - Repurposing Old Jewelry Example
More people should do this. It's amazing how so many people have old rings, broken chains, single earrings, etc.
Here's a job I did for just that kind of person. She hated her original engagement ring and when her grandmother passed she got a mixed bag of pieces; none of which she wanted.