When I begin to think about fine jewelry trends for 2021, it seems so far off... but when I start to count the weeks, it's just around the corner! You can never be too prepared for the coming year, especially when it comes to new trends. Fine jewelry trends change from year to year, but it seems as though we see the same classic designs with an added twist (e.g., color, scale, etc.) to give them fresh new looks. One thing I know for sure is that diamond melee always seems to be there, even if it's just used as an accent.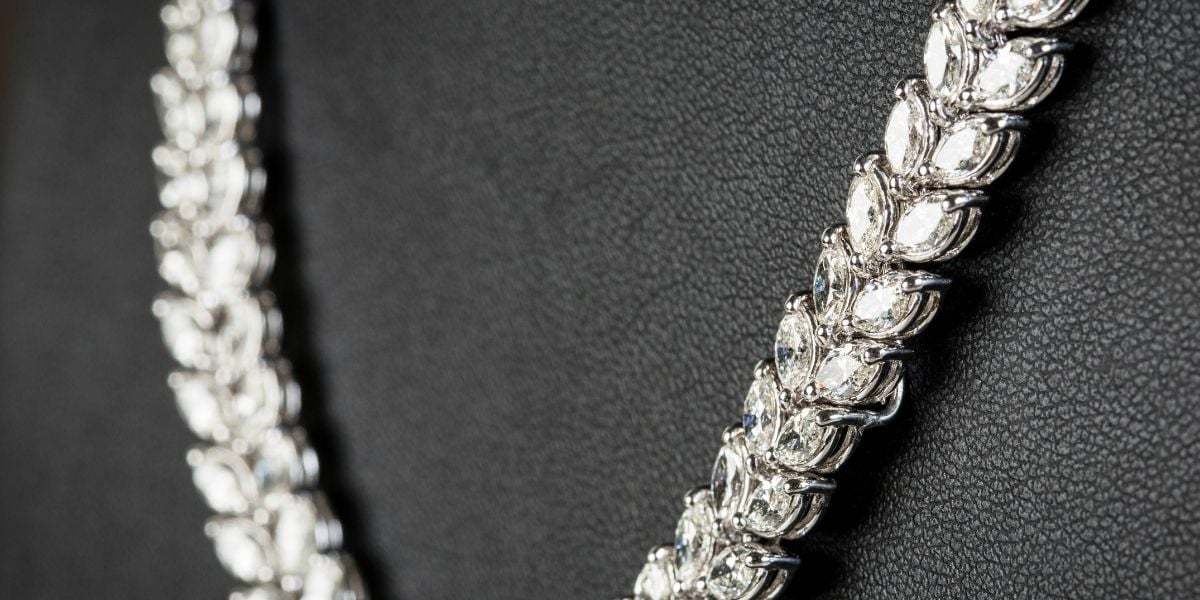 Personally, I love diamond jewelry (not a surprise), and I'm pretty classic in my taste. However, I am still very willing to wear just about anything, as my jewelry has become part of my outfit. It's no longer something that I add on after I'm dressed. I feel that, when planning my outfit, my jewelry is an integral part of the entire look.
Since I work directly with independent jewelers, I get an early peek at what's happening with consumer demand. Here's what I have seen in women's fine jewelry trends for 2021:
1. Big & Chunky Tops the Fine Jewelry Trends for 2021
Many consumers are gravitating towards large chunky chains and layering them. If it's a more edgy look you are cultivating, this trend is for you. In fact, I have seen a huge trend in taking any kind of link chain, whether it be a bracelet or diamond necklace, and covering it in diamonds to "bling" it out. Mixed metals and big chunky statement necklaces also are big trends - and the more diamonds and/or color these fine jewelry pieces have, the better!
2. Women's Fine Jewelry Goes Vintage
Vintage is absolutely on the table when it comes to fine jewelry trends for 2021. Vintage and vintage-inspired pieces to look out for in 2021 include link bracelets in gold for layering, short gold chains, and detailed rings. We will be seeing bigger, bolder pieces with floral designs playing a large part of the 2021 trends.
Vintage jewelry is also a great way of adding a little bit of style to any outfit - what's better than wearing a piece of history?! I have seen a lot of custom work where a vintage piece has been taken and restyled into something that is completely wearable and brings new life to something that's been laying in a jewelry box for years.
3. Rings, Rings, & More Rings
When it comes to women's fine jewelry, it seems you can't have enough or wear enough rings at the same time. The bigger and chunkier, the better - which goes along with the chains we are seeing. It is super cool to wear big bold statement pieces. When wearing a monotone outfit, there is nothing better than a handful of bold gold and diamond rings to make the look complete.
Bold stones on chunky rings will serve those looking to make a statement and break some old-fashioned rules. Moonstone will be a favorite of 2021 as it is a stone associated with peace and happiness. After all, we are nothing if not people in search of hope and beauty in 2021. Crystal will also resurface as a beloved and inspiring trend in the upcoming season.
4. Pearls Resurface in Fine Jewelry Trends for 2021
That said, there will be plenty of room for more delicate and dainty pieces in fine jewelry trends for 2021. Delicate, subtle and classic will be the name of the game for rings, pendants, bracelets and earrings for many. Teardrop earrings or a pendant with a pearl feature will be brilliant in 2021. We will also be seeing touches of color bringing a subtle pop to these timeless pieces.
I love pearls, and I'm so happy to see them making a big comeback. When I think about pearls, I recall my grandmother's opera-length strand. That strand made me feel like I was wearing my grandmother's jewelry, and not in a cool vintage way. Now, you are seeing people string pearls with cool-colored gemstones and diamonds while wearing tons of layers. The look is a little messy, but deliberately so and done in such a cool way.
Looking forward to the fine jewelry trends for 2021 is as inspiring as always, despite what turmoil many are facing in these unprecedented times. Women's fine jewelry is perhaps one of the few consistent sources of inspiration and wonder as we see what is around the corner for 2021.
Women's Fine Jewelry: A Look Back
Throughout the decades, jewelry makers, designers and consumers alike have adapted to the changing times artfully and cleverly. Take for example, jewelry trends in the wake of World War II. Jewelry makers adapted their techniques and use of materials in such a brilliantly resourceful way.
Costume jewelry of the 1940s was born of a passion for women's fine jewelry coupled with a keen sense of ingenuity, whereby the materials that were available and affordable were utilized in the creation of gorgeous pieces that were desired by women everywhere. The use of plastic in jewelry was born from a devastating period in our history and forever marks a moment in time. Jewelry is such a powerful storyteller and keeper of our collective history! These pieces are passed down matrilineally in most cases and younger generations became archivists of this history in their own right.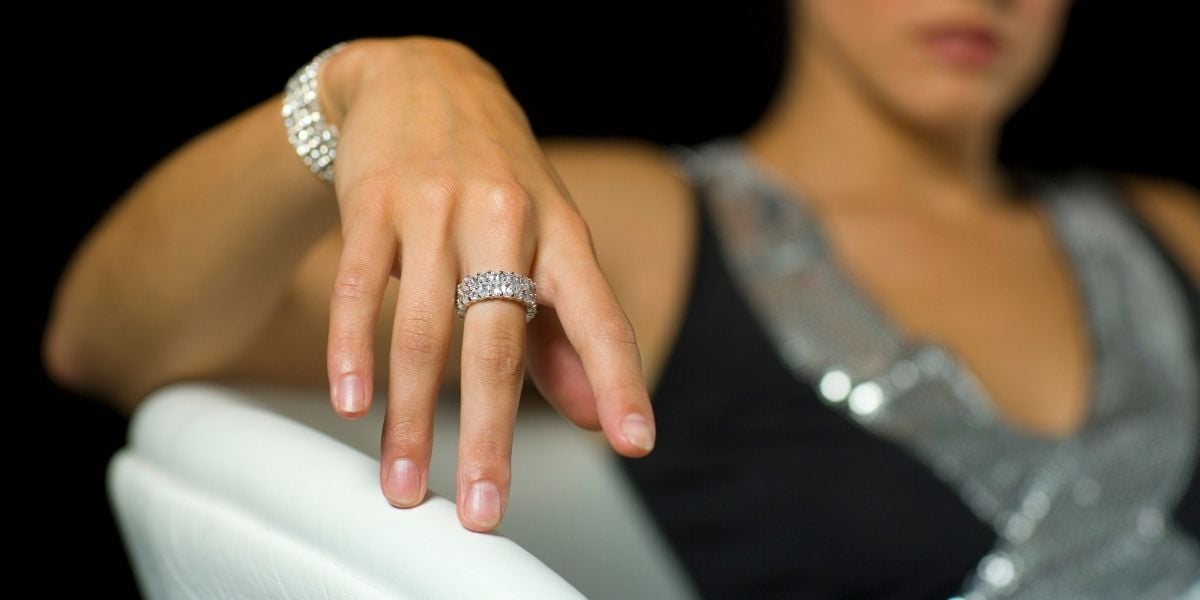 A Look Ahead
For so many of us, winter is an exciting time filled with friends, family and holiday festivities. As the winter months approach us, we begin to plan for the various holiday engagements, office parties, family dinners and so much more. This winter we may be feeling a number of different ways about the upcoming holidays, ranging from excitement at the prospect of being home and cozy with our loved ones to feeling overwhelmed and saddened by the prospect of socially distanced holidays where travel may not be possible at all. Whatever you're feeling as the winter months approach, you are fully justified in your grief, worry, and, yes, even happiness and anticipation.
Fine jewelry trends for 2021 will in their own unique way tell future generations the story of where we are at this particular moment, particularly with regards to the way we source and purchase our fine jewelry.
Women's fine jewelry is being sold in more ways than ever before. Retail stores may still have their doors open to serve clients, but that very personalized experience of purchasing an exquisite piece is also available in the virtual realm. With the same ingenuity and genius displayed following World War II, the fine jewelry industry is using the tools available to meet their clients where they are at to provide them with gorgeous pieces worthy of investment and their heritable futures.
As I mentioned earlier, vintage is making a comeback. Many in the industry are shifting toward the acquisition of vintage and antique jewelry. They are still launching new designs, but at a slower pace that reflects our current pandemic environment. They are adding vintage and antique items to their collections to entice clients. This is especially responsive and thoughtful as more and more retailers and consumers concern themselves with the ethics and sustainability of women's fine jewelry. We are building trends that will be more than a snapshot of this moment in time, but will endure going forward as well. Sustainability and ethical sourcing in the fine jewelry industry are the types of investments clients will be looking to make in the future as well.
Whatever you do to prepare yourself for 2021, be sure to stock your inventory accordingly so you can deliver the looks your clients want in the months ahead! Get a jumpstart by placing an online order for melee diamonds now.