One of my goals is to structure my business in a way that cultivates buyers from around the world to purchase diamonds and jewelry on my ecommerce website. However, finding your target market and getting them to head over to your website is no easy challenge – especially if you're looking for long-term success, not some quick money-making sales.
One of the biggest mistakes you can make when starting an online business is not conducting enough research on your niche market. As a jewelry business owner, you are knowledgeable and passionate. You have already displayed your willingness to work hard to get what you want, but there is more to it in this industry than just drive. Finding your target market for jewelry is essential to the success of your business, and to do that you must first understand jewelry market segmentation.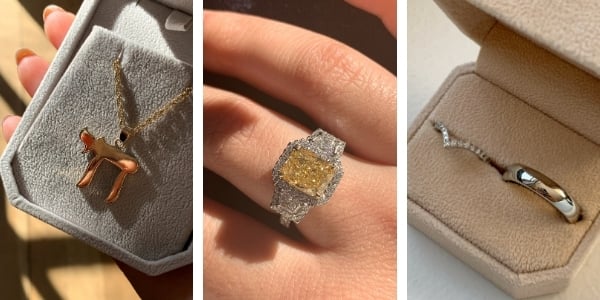 Jewelry Market Segmentation: An Overview
Finding your niche requires that you do some research about what the potential subsets of customers are for your business. You need to be thinking about age, gender identity, location, and buying behaviors. When you know your demographics, you can better empathize to gain insight into how best to target your marketing efforts by applying strategies that reach the right people at the right time with the right promotions.
So, what are some basic, first-glance differences between, let's say male and female customers? You may be surprised to hear that men are more likely than women to use their phones to shop online, whereas women are more likely to use a computer when purchasing online items. Knowing these subtle differences can make a tremendous impact on your efficacy as you are able to tailor your strategies with precision.
Often, when we talk about jewelry market segmentation, we are talking about two major groups of consumers. The two groups are millennials and women who buy jewelry for themselves. Marketing strategies for the latter group have had a hard time taking off, historically speaking. Women tend to buy jewelry for themselves that has color and can be a gorgeous accessory to make an outfit really pop. These are characteristics that more traditional jewelry shoppers may not always have in mind, but this is an important detail to notice when finding your target market for jewelry.
Millennials and self-purchasing women (and often these two segments overlap) are buyers who are often concerned with and interested in the ethical sourcing of gemstones. Millennials are purchasing towards a means of self-expression and are trying to do so while maintaining their personal ethical standards when it comes to labor and the environment. Millennial shoppers are informed and are looking for more in depth information about the jewelry they buy.
Understanding jewelry market segmentation is critical in first, finding your target market, and second, effectively highlighting your pieces and value proposition in a way that rings true to them.
When you look at Amazon, Ebay, or Etsy, the jewelry category is one of the most saturated markets in the history of online selling. Jewelry selling is a billion-dollar industry with steep competition. You need to showcase your unique value in order to survive and thrive.
Finding Your Target Market and Adding Value
Adding value to your clients' experience is not rocket science. One of the most important things you can do is to educate your clients about your product.
For example, I speak a lot about diamond melee - and not only about the 4 c's. I describe how we test our diamonds, how we bag our diamonds, and how we cater to each of our client's needs.
Do some research on the jewelry items that are being sold by your competitors, and find out how those competitors describe their products. Most jewelers who sell online are describing their items using glamorous words and superfluous adjectives. While jewelry and diamonds definitely need and deserve those words to evoke emotion, you can also use extremely descriptive words to inform potential customers about the details of your jewelry.
Be sure to check out what your clients are looking for. You can buy inventory based on what your clients are searching for. The best way to learn more about that is to consult Google Trends. This will definitely provide you with insights on whether clients are searching for the items you have online.
In addition, you can talk about how your company may offer a lifetime warranty program, appraisals, and/or regular cleaning and sizing services. Think about what YOU would want if you were the client. Capture your buyers' attention by not only telling them about your expertise, but also about why they should want to buy jewelry from you.
Look at your competition to see where they are lacking and where you can jump in with your knowledge to get yourself ahead! Try to see the points of difference, and let those differences be the key points of differentiation you communicate to your clients. You might just be surprised by how those differentiators can transform into huge opportunities for your business!