While the headlines these days may be all about lab-grown diamonds, the reality today is that there's a natural diamond demand unlike any other. In fact, loose diamond prices in 2021 have increased dramatically, and there are a number of different factors that have led to that increase.
More People Are Interested in Buying Diamonds
People are buying diamonds across the world. Both retailers in the United States and China are buying as much as they can because consumers in both countries are interested in the diamonds they have available. Big companies like De Beers and Alrosa are having trouble keeping up, as their supplies are increasingly limited.
U.S. stimulus checks may have boosted diamond sales, as many people now have more money to spend on discretionary and luxury items like diamonds. During the lockdowns that resulted from COVID-19, many people couldn't go out and buy luxury diamonds, and that was as true for diamonds as it was for anything else. Because of the lockdowns, people wanted to make purchases for the special people in their lives, and often that meant a gift like diamonds. That demand has only continued.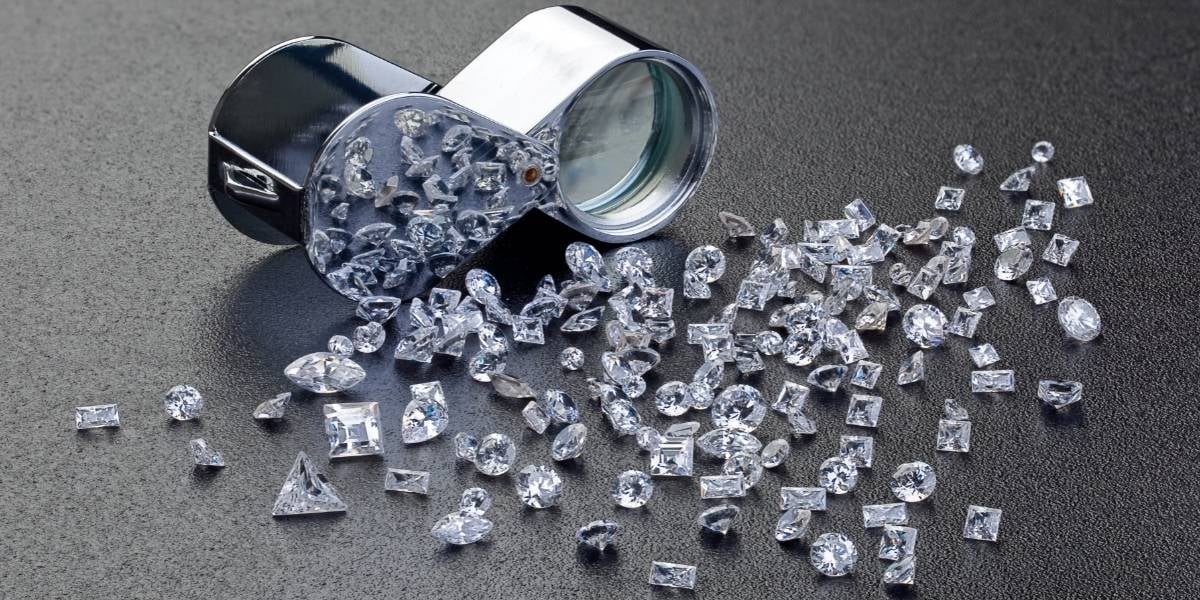 The Industry is Generating Positive Press
Perhaps another reason demand is increasing isn't just the need for diamonds, but the industry itself. Natural, sustainably sourced diamonds are getting a lot of press. Companies are doing more than ever to address environmental issues. They're showcasing their efforts when it comes to conservation, and many are working toward net-zero carbon emissions. This campaign has helped many consumers feel good about buying diamonds.
The Natural Diamond Council has also created a new marketing campaign across both print and TV ads featuring many ambassadors and product placement opportunities. That has boosted consumer interest in diamonds and started to attract consumers to jewelry stores both on and offline.
Serious Supply Chain Issues
The demand for diamonds grew, but the supply didn't for many reasons. One of the biggest problems was that there was a bottleneck at the GIA, which resulted from a serious demand for lab services. Many diamond sales are based on independent grading reports from the GIA, and because of that, the supplies just aren't hitting the market as fast as consumers are buying them. The lab is taking in 71% more diamonds than ever before, and the turnaround time has grown to four weeks per order.
The supply chain has also been completely interrupted. Diamonds take some time to be cut, polished, and sold - often about three full months - so as consumers were preparing to buy, there simply weren't enough diamonds available thanks to shutdowns across the board. As more economies open, the consumers are more willing to buy than ever before, so demand seems to be continuing despite the fact that suppliers can't keep up. Today, retailers are selling diamonds for as much as 10% higher, and some are even turning to other retailers to help fill their orders instead of the wholesale market.
Demand is growing for all diamonds at an all-time high because so many consumers are looking for new diamond jewelry.
In fact, the supply chain issues have gotten so bad, other players are considering an entry into the market. For example, according to Bloomberg Russia is considering selling diamonds from their own stockpiles in an effort to recover economically from the pandemic.

The Key Takeaway
Prices are hot now, and they're only expected to continue to be that way throughout the upcoming holiday seasons. While many factors have led to those prices, it can only mean one thing for consumers involved in the market - there's never been a better time to make a purchase.