Buying a diamond engagement ring is one of the most important decisions of your life; it's an investment in - and a symbol of - the future. But where do you start? What is the best place to make your purchase?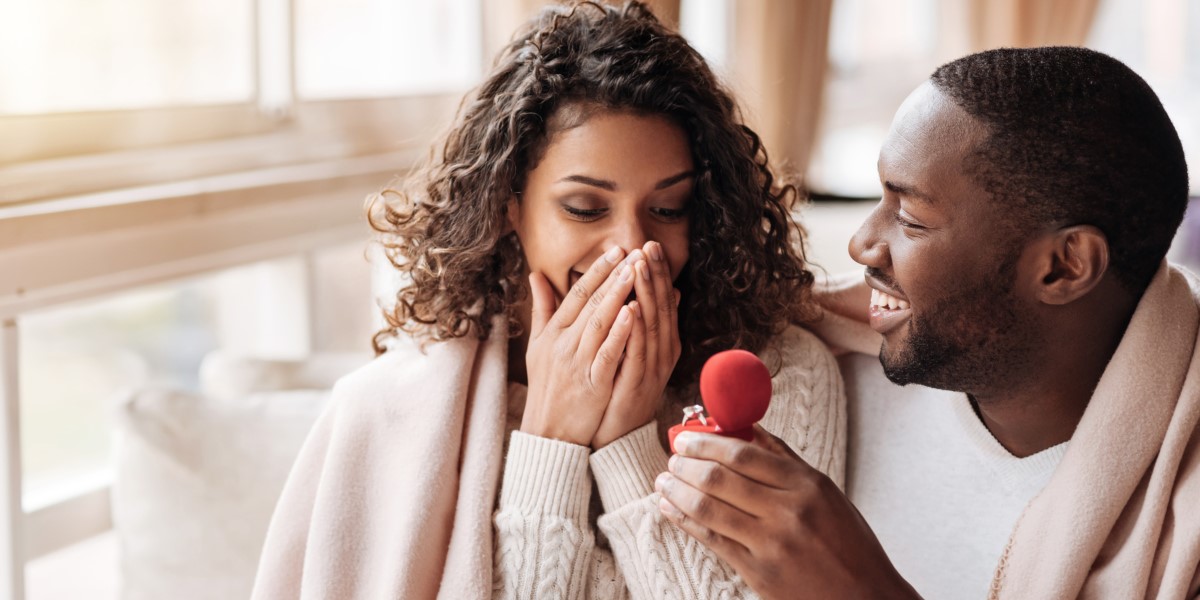 Engagement Rings for Women - and Men
Before you start searching for engagement rings in earnest, be sure to give yourself a crash course in diamonds. It is helpful to have a working knowledge of the 4Cs, as well as a vision in mind in terms of what the recipient will like for shapes, settings, and metals.
It can be intimidating to walk into a jewelry store or browse a website if you don't know your way around carats, cuts, colors, and clarity. You don't have to become an expert; but it is beneficial to understand the ranges you find acceptable (e.g. a color range of G-J, for example) or if you want to sacrifice a bit of carat weight for better clarity to optimize your budget (and don't worry, small size differences are not apparent to the naked eye).
With that foundation, you can begin to delve into the world of purchasing engagement rings for women and for men. Many jewelers now create gorgeous pieces for same-sex couples and non-binary folks. When selecting a jeweler, be sure they can offer the styles and quality you need for your partner.
When to Buy a Diamond Engagement Ring Online
Researching diamond rings online is certainly a wise decision - but what about purchasing via a website? This can be a good option if:
You know exactly what you want in terms of cut, color, clarity, charity, shape, and setting. If you are going by the numbers, buying online can streamline the process.
The site from which you want to buy offers tools to help you envision the ring. For example, you may be able to view the diamond in 20x magnification or use a hand recognition feature to "see" the ring on your recipient's finger. (This can be a bit trickier if you want it to be a surprise!)
You choose a reputable site.
This last point is critical. You need to be sure you are getting the quality you expect. How?
Ensure that the online brand provides a GIA grading report.
Also look for a brand that offers no-hassle, free returns and a lifetime warranty.
Make sure the site is securely encrypted to protect your financial information.
Take the time to look for reviews and ratings before you buy from a site.
Ask questions: how long has the brand been in business? Where are they located? Are shipments insured? Do they belong to any jewelry trade associations?
Choose a site located in the US. This gives you recourse in case something goes against plan: you can report them to the BBB, FTC, or even pursue legal action. You may not have these options available with an out-of-country vendor.
When to Buy In Person
Many people prefer to buy in person. This is a good option when:
You are not quite sure what you want. It can be helpful to simply browse and see which pieces speak to you.
Your partner is involved in choosing the ring and wants to try on different pieces to find the perfect one.
You need some assistance to make the best choice. A great jeweler will walk you through the steps and help you examine your options.
You want a customized piece. Working closely with your jeweler can help you get the results you want.
You want a jeweler with buy-back or upgrade programs. These are not typically offered by online vendors.
Buying a diamond engagement ring is an exciting process. Choose the path that is right for you and your partner.