Shipping jewelry should be approached with loss-prevention practices. The best way to ship jewelry involves keeping the fact that the parcel contains jewelry hidden. This protects the package on your end and on the customer's. But beyond that - what do you need to know about shipping with each service, including shipping jewelry UPS?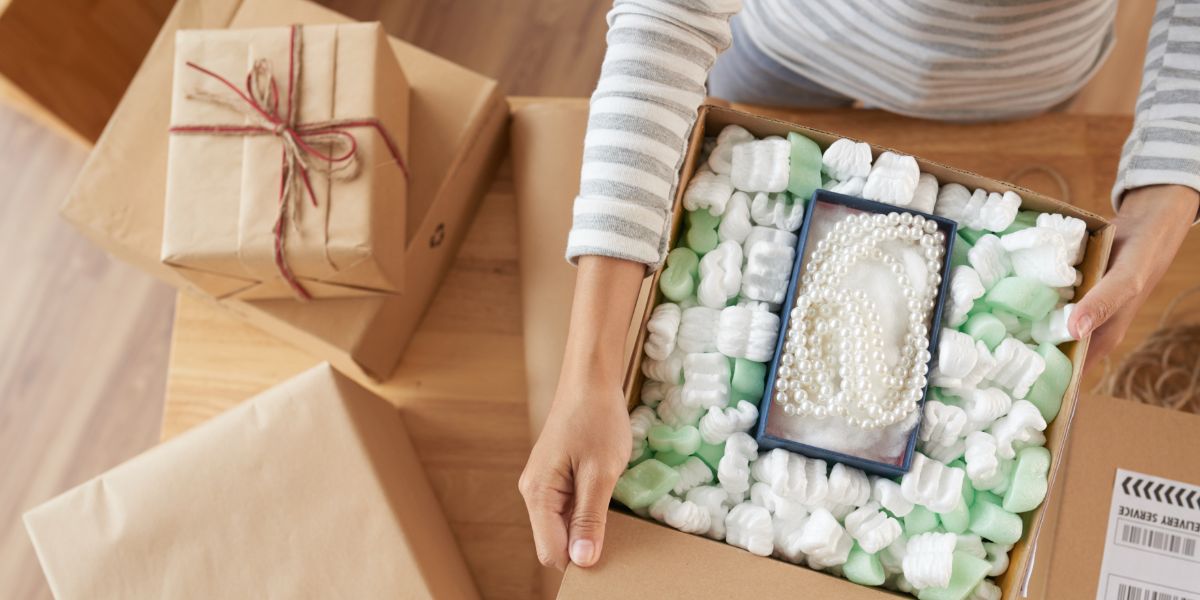 Plan Ahead
Planning shipments ahead of time helps avoid mistakes on your end. The more rushed you are preparing packages, the more likely it is that a mistake gets made. Errors can be reduced by using a shipping solution platform. If you don't have one, even a spreadsheet is better than nothing. Keep track of your shipments and make sure that every employee involved with packaging is recording this information using the same system.
Good scheduling ahead of time also helps avoid packages sitting in a warehouse over weekends or holidays.
Double-Packaging
This is more expensive, but can be an important loss prevention step. Double-packaging is a good way to prevent easy tampering with your packages. They're more difficult to casually open. Remember that thieves follow a path of least resistance. Anyone abusing their position at any step of the shipping process only still has that position because they take the smallest packages that are easiest to tamper with and leave the rest. So make your packages larger and difficult to tamper with.
Tracking
Plan to track your shipments. This is easy to do most carriers and can help you check in on specific packages and the progress of your shipments as a whole. Sharing tracking information for individual packages with those receiving them also helps them track the package. When customers can do this, they can see when to be home or if there are any delays on the carrier's end. This also helps customers recognize that you've done your part, and delays and errors can be the carrier's fault – thus helping you maintain good customer relationships.
Avoiding Damage
You can't be sure that your packages will be treated gently. Layer, use bubble wrap, and make sure the jewelry itself is secure in place. When double-packaging, if the inner box is surrounded on all sides by packing material, it will have a buffer against the shipment being jostled, damaged, or dropped.
Disguise the Package
Do not make it obvious in any way that the package itself contains jewelry. Don't label what's inside the package and don't visually signify in any way that jewelry is inside.
At the same time, it's just a package. Don't fancy it up by fastening it with string or bows. This is eye-catching for thieves, not to mention an easy way for the package to fall open. Treat it as a normal package, nondescript and sealed securely.
Signature on Delivery
Always require a signature on delivery. This way, you have evidence that the package was received by someone. Most customers would never even think to abuse a business by pretending they hadn't received the package, yet the few who will can cost (and frustrate) you.
Insure Your Jewelry
Insurance covers shipping both jewelry and loose stones, so you can be safe purchasing insurance from a reputable agency. Additional insurance is usually available.
In addition, you can receive extra coverage through different carriers. Express Mail in the U.S. will cover an additional $5,000. You can purchase up to $50,000 of coverage when shipping jewelry UPS, though they won't insure loose stones.
Be aware that UPS won't ship any package valued over $50,000. Don't fudge the numbers. This will get you in even more trouble, and it's not worth it because there are so many different shipping options available. Always make sure the full value of the product is declared.
Shipping Options
You can always ship Registered Mail. This is ideal for many, but it can take a bit longer than other options. Express Mail guarantees next-day and second-day delivery, while shipping jewelry UPS and Federal Express are both decent options as well.
For many, the best way to ship jewelry is with a specialty shipper like Parcel Pro. Such services have extensive experience serving the jewelry industry. They specialize in high-value shipping, and offer easy ways to ship and insure all at once.
However, which service you rely on likely depends on timing and value of what you're shipping.
As always, K. Rosengart's clients enjoy free 2nd day shipping on all orders over $400. Feel free to contact us for more details!