It looks glitzy and glimmery, but the reality of the jewelry world is that the competition is fierce, the margins frequently tight, and the quest to retain loyal, repeat customers often quixotic. Thus, it is incumbent upon retail jewelry store owners and managers to pull out all the stops when it comes to attracting buyers. A stellar window display can shine a spotlight on your business.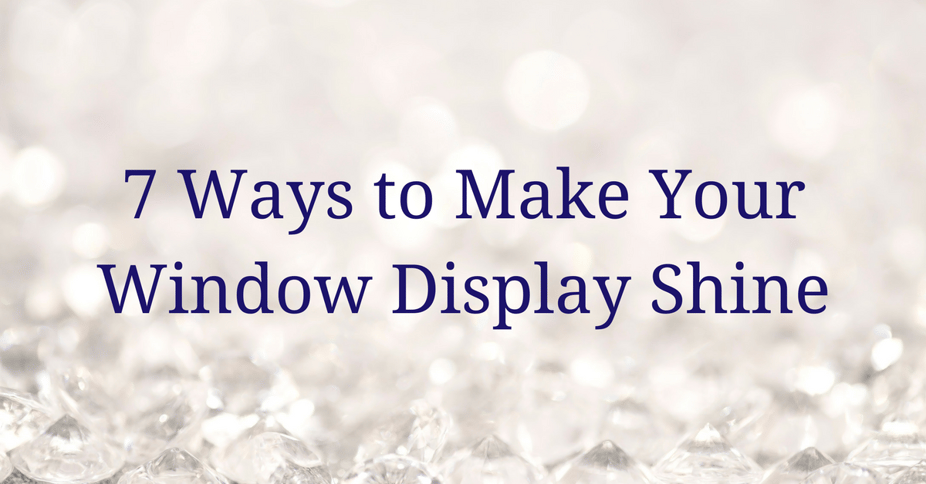 Getting Customers in the Door
In a recent survey, jewelers sited driving foot traffic as one of the most significant challenges they face. One respondent said that "getting customers in the door" was his biggest stumbling block. "[We are] losing that customer experience of sitting down with people and developing a relationship."
Your window display must entice them to come in -- to begin building that relationship. A tall order for a piece of glass and a few square feet of space! But we're confident you're up to the challenge. Here are some tips for displaying everything from that elegant halo engagement ring encrusted with melee diamonds and those drop earrings custom-made to sparkle to their best advantage -- and to yours.
1. Examine the space with which you can work.
Take a step outside, walk by your store. Where does your eye land first? That's where you want your focal point -- the star of your window display. Are there areas in shadow? This can be useful too; with some strategic lighting, the "shadows" can become prime real estate. Get the lay of the land, so to speak, and you can start planning your displays.
2. Know your customer and keep your brand identity top of mind.
Know the audience to whom you are selling: what do they want, need? To what do they respond? Are they high-powered execs or easygoing creatives? Are they urban or rural? While you don't want to make sweeping generalizations, you do need to know your market and choose pieces and themes (see below!) that will resonate with potential customers.
3. Select a theme.
This can be connected to the season or upcoming events. Go beyond the expected. For example, Valentine's Day is a critical time. Instead of just throwing up pink and red decorations, create a story. It could be "Mischievous Cupid," "Queen of Hearts," "Love Conquers All," -- or have some fun -- "Love is crazy!"
Rather than random objects placed haphazardly, you create a narrative that pulls customers in. Use materials that speak to you -- from mannequins and sculptures to intriguing props and furniture pieces. Be creative.
4. Choose the stars of the show.
You could just put out a big selection of pieces and hope they draw customers in. Yawn. Sorry, but customers are so used to this that they'll often just skip right by. If you've gone to the trouble of selecting a theme, choose a few bold pieces that will help tell the story with maximum impact.
5. Eliminate clutter
Poets know that "brevity is the soul of wit." In other words, cut all the extra "stuff" out and get to the point -- beautifully, of course. The same applies to your window display. While creating a story, strip away any extraneous detail. If it doesn't contribute to the narrative and to highlighting your carefully-selected pieces, it goes.
6. Think in 3D
Remember that your display will be viewed in three dimensions; arrange its elements so they look equally good -- though perhaps a bit different - from multiple angles. Use tiers, risers, pedestals, or lines suspended from the ceiling to create a multi-dimensional effect that spotlights your products.
7. Lighting is everything
Really highlight those pieces! The right lighting can draw people in, accentuate the beauty of your pieces, and "shine a light" on your inventory. Play around with the effects from spotlights to overhead lights.
Ensure that your window display is built on an exceptional foundation; our industry-leading diamonds services streamline every step of the process, from ordering high quality loose and melee diamonds to CAD design, setting, polishing, and more. When we cut, sort, and assemble your orders, we keep your business, margins, and customers top of mind. We're anticipating the stunning displays you will create!