People walk into your retail location or visit your website to browse, buy gifts, treat themselves to something beautiful, to make those momentous purchases -- from engagement rings to anniversary bands. They turn to you for the big moments, and for the small. The question is: how can you maximize these moments and make them more frequent?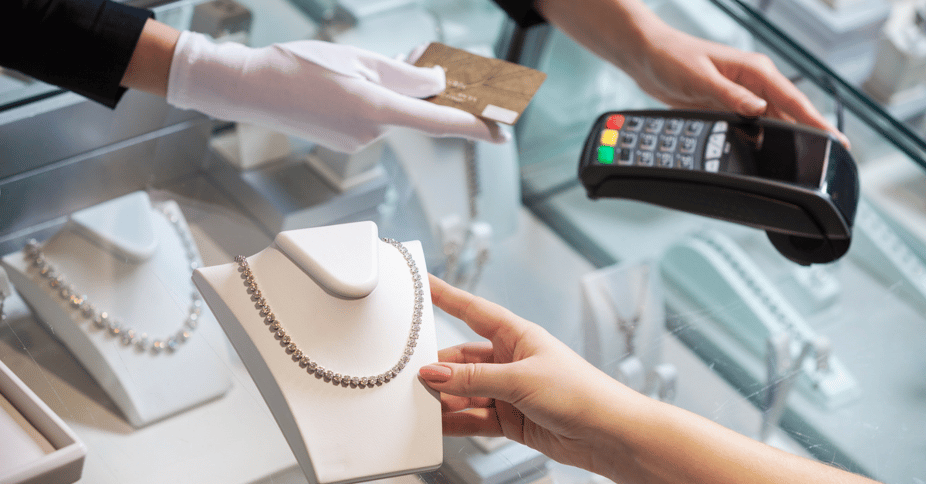 If you are looking for an effective way to increase jewelry sales online, then it is best to focus on social media and providing customers with a sense of care and interest. Social media provides you the opportunity not only to highlight your latest pieces, but also be present in the lives of your customers. How do you do this? Start by re-posting photos from other sites or blogs that feature your products in place of those from celebrities or other companies that might not be relevant for your store. You can give people who post about your products shoutouts (i.e., @StoreName thanks for posting about my product!), which will help build brand awareness as well as engagement, leading them back to purchase more items from you in the future.
Here are some tips on how to increase jewelry sales:
1. Build your brand
It's the existential question: who am I? When it comes to your brand, it's essential you develop an answer. Your brand guides everything from marketing initiatives to product choices. As Jewelry store owner Kevin Main says, "Jewelry is like branding. What you don't see, you feel."

When customers walk into your space, what do they feel? Welcomed? Calm? Do they feel a classic vibe? A funky eclectic atmosphere? There is no wrong answer - as they say "do you." But make sure you're "you" is unique. You want to develop a signature style (which can and should evolve over time).
But little touches, like offering hot tea or cold water or having a comfortable, private seating area for consultations, go a long way in cementing your brand as different from cold, impersonal competitors. They help tell your story -- another essential component of a strong brand.
So get existential: who are you? And why should customers spend their money with you instead of competitors?
2. Cater to your customers
Of course! Once again, Main offers his wisdom: "Listen to your customers and they will tell you how to make them happy." Listening -- not talking -- is the key to boosting jewelry store sales. It applies on the macro level: that is, knowing what your customers want will help inform overall purchase and design decisions.

But it also works on the micro level: take it individual by individual. You, and/or your sales staff, need to ask guiding questions to determine what the customer really wants. An engagement ring? If so, what are the features that are most important to them? What is the recipient's tastes? What is buyer's price point?
The customer should drive the sale. And they will -- if you are confident in putting them in the driver's seat. Everyone wants to feel empowered, especially when it comes to a complex, intimidating niche like jewelry. They'll return to the jeweler who gave them this feeling.
At the same time, your sales team is forging relationships by asking questions and listening carefully to the answers. As always, in this business, trust and personal relationships are paramount.
3. Build connections - between the customers and the merchandise
The internet offers people the opportunity to shop for jewelry based on details, specs, and ratings. They can consult their budget and determine what they want within its parameters: e.g. an engagement ring with a round two carat diamond with VVS1 or VVS2 clarity and an F color rating and a white gold setting. It's all about the numbers.

But when people come into a jewelry store, they are seeking something more. They want the story, the romance, the possibility, the experience. You have the opportunity to allow your customers to interact with pieces -- and the pieces can do the selling for you.
Sometimes it's best to stand aside and let someone try on that anniversary band or pendant necklace. Or to stop talking and let a customer wear a piece for a bit to experience how they look and feel. They can begin to form their own connection with the pieces.
4. Make your store comfortable
There are any number of ways to do this, and your approach should align with your brand identity. Your decor, your sales staff, and even details like the temperature and those handy beverages, should be spot on and designed to welcome people and reduce the intimidation factor.

Another great step: raise your counters. It's uncomfortable to bend over and crane your neck to get a look at that gorgeous halo ring encrusted with melee diamonds. Raise it up; counters should be above belly-button height (an average of about 42 inches). This allows customers to peruse at their leisure. Remember, when they linger over pieces, it is a good thing!
5. Consider offering financing
Increase jewelry store sales by making financing easier and more convenient. For example, you could offer no-credit financing for those just starting their careers, or you could provide a lease to own program. If your brand is ultra-exclusive, this will not apply. If your brand is more approachable by a variety of consumers, you may want to strongly consider creative financing to draw more customers into your store.

When your goal is to enhance jewelry store sales, be sure to start at the beginning: with the raw materials themselves. K Rosengart's renowned diamonds services deliver the finest inventory and can help you streamline your design and creation process, allowing you to bring products to your customers faster and more efficiently.
How can I increase jewelry sales?

There are many ways to increase jewelry sales. It is important for a business owner to know what exactly the customer wants and what type of jewelry she likes. This will help them use the right strategy when approaching the customer. For example, if the client likes accessories, then it is best to offer different types of earrings and rings. If they want rings and necklaces, then it's best to show them those options first before showing them bracelets or earrings. In order to increase jewelry sales online, make sure that you have an attractive website that has lots of pictures so people can see how good your products are before buying anything.

How can I promote my jewelry business?
Many jewelry store owners have found it challenging to promote their business and make a profit. There are many ways to promote your business and increase sales, such as promotions or sale prices. You should also take advantage of online sites such as Facebook, Instagram or Youtube, where you can post pictures of your jewelry with a caption explaining the item and its price. You should use online websites in order to promote your jewelry business which will help increase customer traffic in the long run. You can also use social media sites like Facebook or Instagram to show off new pieces you have for sale and reach more potential customers outside the local area.

How do you get people to buy your jewelry?

To increase jewelry sales, I would make sure to have a variety of products to offer. This includes many different styles and designs of the same product. The jewelry needs to be well-made and durable for people to want to purchase it. Making a website that is not only easy for customers, but also has plenty of information on the site is also iimportant.