Imagine you have just created and sold a stunning piece. How would you want to hear it described? Gorgeous? Timeless? Priceless? Or would you rather the recipient just be speechless? The adjective you probably don't want to hear is accurate. To the customer, accurate is not sexy. It's not flashy. It's not glamorous.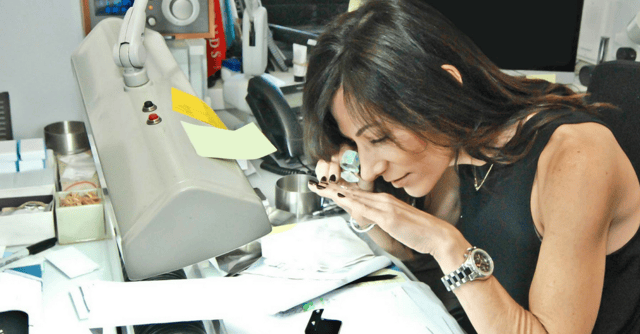 But to a jeweler or retailer, accuracy means deadlines are met, orders are fulfilled, customers are thrilled, and margins are flexible. Accuracy is beautiful; it is the foundation on which you can build compelling, profitable pieces. And these three services ensure you attain accurate orders — every time.
Diamond Cutting. Through this intensive, time-consuming process, rough diamonds are transformed into faceted beauties. Diamonds are the hardest natural substances, and they are equally hard to cut! It takes training, skill, and experience to optimize both value and yield.
The expertise of the cutter is paramount; after all, cut is widely considered the most important of the 4Cs. It is helpful if your diamond supplier offers cutting services in-house. This way, you do not have to outsource this critical task and leave it in unknown, unvetted hands; the supplier handles quality control. They will ensure stones are cut to optimize brilliance, scintillation, and fire — attributes that render the diamond as sparkly and dazzling as possible.
Diamond Sorting. Whether you need a specific stone to match for a set of earrings or you need an assortment of diamond melee for several rings, nothing but the exact specifications will do. Professional diamond sorting services ensure that you receive the stones necessary to fulfil your designs and orders, down to the last tiny 0.07ct stone.
Say, for example, you specify diamonds to complete an intricate pattern for an engagement ring. You need to be sure your whole order will come to you in an intuitive package, so you can get on with your design without feeling like you're working a 1000 jigsaw puzzle. You don't have time to deal with delays, and you certainly don't have time for rejections. When your supplier takes the time to sort properly, you can get right to work.
CAD Designed Diamonds. Maximize efficiency. If you've spent your creative budget designing a piece, a qualified supplier can bring it to life. Send your CAD drawing, and they can realize your vision with the right stones and materials. CAD builds accuracy into your drawings; your inclusive, full-service diamond partner will take it from there.

You don't dream a customer will say, "Wow, is this piece accurate!" But when you say, "Wow, this supplier is accurate," you can help your customers say… well, nothing. They'll be speechless.